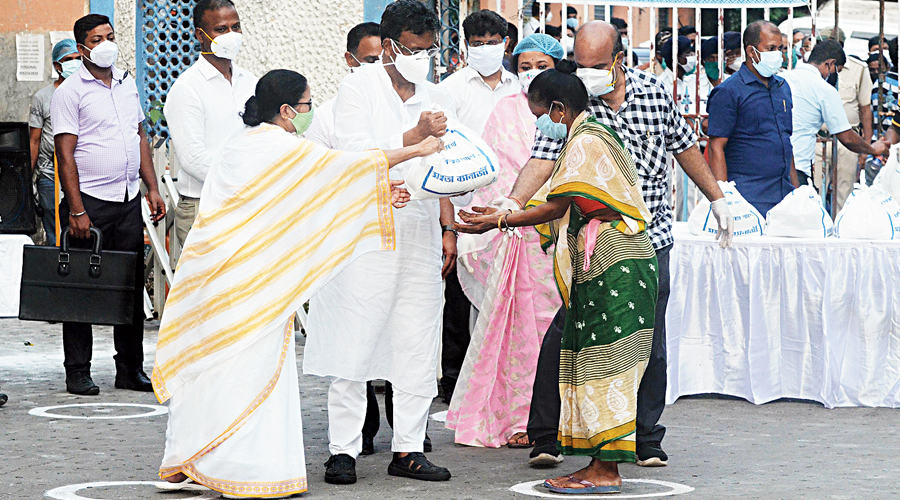 Queue for food grows longer, shows depth of distress Reluctance to stand in line fades as Covid-induced uncertainty looms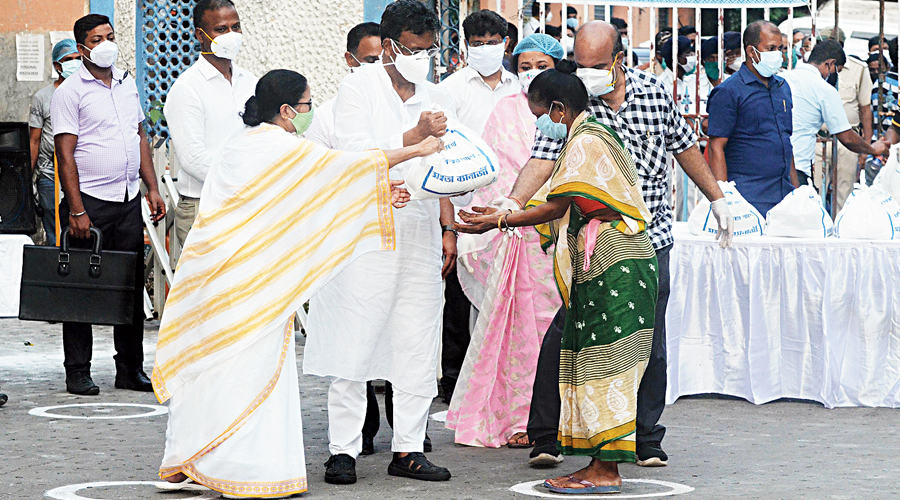 Calcutta

|

04.06.21:
| TT |
The queues for food are growing longer in and around the city.
Many people waiting in the queues had a fixed income — drivers, office attendants, housekeeping personnel, guards and ayahs. They have been put out of work — most of them temporarily — by the stringent Covid-19 curbs imposed to combat the second surge.
The loss of that income and the fear of an uncertain future has brought these people together in queues with daily wage earners, for the second time in two years. Most of them had never survived on free food before the lockdown last year.
"I was extremely embarrassed to stand in a queue last year. I had gone to the club that had organised the free ration drive in the evening with my token. But I stood in the queue with everyone else this time," said a 37-year-old man, who lives in Taratala.

The man, who did not want to be named, drove private cars for a living. He was enrolled in a driver centre in Behala and got at least one assignment every day before March 2020.
As the Covid curbs were relaxed last year, he started getting calls from the same centre. But the second wave and the subsequent curbs put him out of work again.
His late father was a peon in a government office and his mother still gets a family pension. But that is barely enough for the family of four, including the driver's wife and younger sister, a Class VIII student.
"I have not stood in queues for cooked food but for dry ration — rice, daal, potato and soybean," said the man.
Amit Das, who lives in Gobindapur Railway Colony near Tollygunge railway station, has taken cooked food as well as dry ration since May 16, the day the stringent curbs came into force.
The 39-year-old works as an "office attendant" at a financial consultancy in Poddar Court. His job includes upkeep of the office and visiting banks. He gets a salary of Rs 8,500 but no work means no pay. His employer has been "kind enough" to give him 15 days' salary for May.
He is not out of cash yet but still stands in queues for food because he is not sure of the future. "Who knows what's in store? What if the curbs get extended? People are already talking about a third wave. I am trying to save whatever little money I can," he said.
When he was out of work for months last year, Das sold vegetables at a local market. If the curbs this year get extended beyond June, he plans to do the same thing.
People at the helm of food distribution drives said that during the lockdown last year, a large number of those who received food were migrant labourers from Bihar and Jharkhand, who were stranded in Calcutta.
"That segment has declined this time. Most migrant labourers have gone home. But along with muityas (people who load and unload goods in markets) van-pullers, labourers and ragpickers, the number of lower-middle class people taking the help has been on the rise this time," said Satnam Singh Ahluwalia, the chairman of IHA Foundation, which has been providing cooked food and dry ration to hundreds of people every day.
Ahluwalia said people who had a fixed income preferred taking dry rations than cooked meals.
One such recipient is Manish Sharma, a 36-year-old resident of Bally in Howrah. Sharma used to work with a courier company's office in Uttarpara as an office attendant on a no-work-no-pay basis. He has been sitting at home since May 16. His salary of Rs 8,000 was not enough for his family, which includes his parents, wife and two sons.
His family has a house. Sharma's father had some provident fund savings but almost all of it got spent during the lockdown last year.
"July last year was the first time I stood in a queue for ration. But this time, I took the help I got right from the beginning," said Sharma, who has been running errands to earn whatever he can for the past fortnight.
Zeeshan Majeed of the Anti-Hunger Squad Foundation has been providing dry ration as well as cooked meals in and around Calcutta. A few weeks ago, he received a call on a helpline number. The caller, who lived in a standalone apartment near the Technicians' Studio in Kudghat, said he had "lost his job with a private company".
In a WhatsApp message that Majeed shared with this newspaper, the caller requested for dry ration which was delivered in a couple of days.
"I keep getting requests from such people, who have either lost their jobs or don't earn anything if they don't go to work," said Majeed.