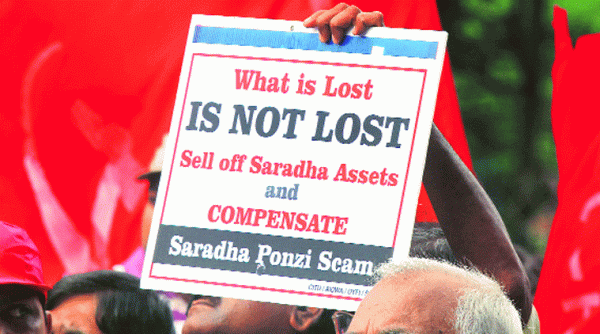 While 18 lakh depositors of Saradha-owned chit fund companies applied for compensation, only 4.98 lakh have
been compensated by the state.
Sabyasachi Bandopadhyay | Kolkata | October 24, 2014: The state government's order to close down the Justice Shyamal Sen Commission, which was looking into the multi-crore Saradha chit fund scam, on Wednesday has dashed hopes of more than 13 lakh depositors of these money-pooling firms who still await a refund of their invested money.
While 18 lakh depositors of Saradha-owned chit fund companies applied for compensation, only 4.98 lakh have been compensated by the state. Apart from them, five lakh depositors of other ponzi schemes being investigated by the commission have also not received a single paisa from the government.
For the past five months, 40-year-old Ruhul Amin, from Hasnabad in North 24 Parganas district, has been routinely making rounds of the office of the Sen Commission on Council House Street twice every month to check the progress of his application seeking refund of the money that he had deposited with the Saradha Group.
"We were duped for the second time. First it was Saradha Group owner Sudipta Sen and then Chief Minister Mamata Banerjee who cheated us. It was a colossal case of discrimination,'' Amin, who lost about Rs 1.5 lakh, told The Indian Express.
Some of the depositors came near the Sen Commission office and, loitered around aimlessly, looking at the huge police force deployment.
"From Sudipta to Didi, everybody played ducks and drakes with our lives,'' said a couple of unhappy investors.
Though official records state that 18 lakh depositors of Saradha chit fund firms applied for compensation, big sacks, containing applications, lay unopened in the office, suggesting that the number could be more.
When asked the reason for the order, Mamata said Tuesday she was closing the commission down since the state government had no funds. "I had money to compensate five lakh people only. But to refund the rest, I have no money,'' she said.
Meanwhile, Justice Shyamal Kumar Sen filed his 404-page report to the state government. Meanwhile, the Calcutta High Court rejected a petition of a section of the depositors to consider an extension of the term of the Sen Commission. However, some other investors said they would move the court again to redress their grievances. "We were wondering why we were discriminated against. While a small section has got the money we did not get it. It is sheer discrimination and it is unconstitutional,'' Chittaranjan Das from Memary of Burdwan, who had deposited Rs 4.5 lakh with a chit fund, Shile India Agro Industries Ltd, told The Indian Express.
Officials of CBI and Enforecement Directorate went to the Commission office Wednesday and collected the software containing information on various companies and the depositors.
read more...