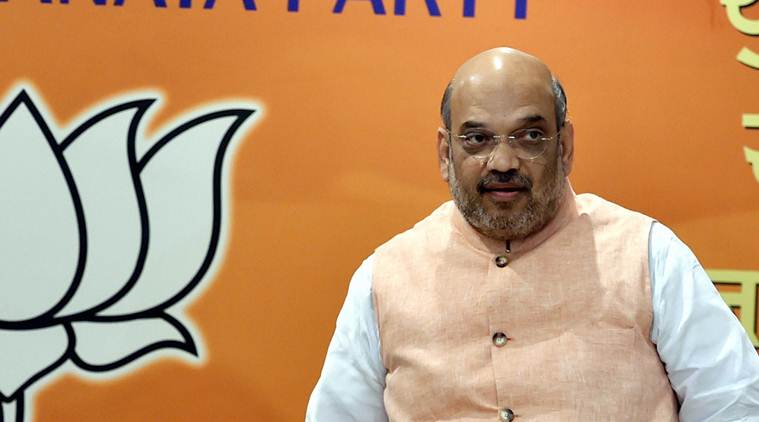 IE, Kolkata | April 10, 2017: After "successfully" executing the Ram Navami processions in various districts of the state, the BJP now will have its national president Amit Shah visiting Siliguri on a three-day visit starting from April 25. He is expected to further push the party's prospects in the area, which will have its panchayat polls next year.
The strategy, BJP leaders explained, is to replicate the booth-level penetration that the party was able to create in Uttar Pradesh and other states. Apart from Shah, MoS External Affairs VK Singh will also be arriving in Siliguri to open a passport seva kendra for north Bengal in April.
"With north Bengal going to polls, BJP's ally Gorkha Janmukti Morcha (GJM) is having a tough time against the Trinamool Congress (TMC)," said a senior BJP leader. "Chief Minister Mamata Banerjee has been visiting the area repeatedly and campaigning aggressively. Not only will the party president's visit boost the morale of the BJP leaders, but also allow GJM to make their case better." The GJM has been raising the cry for Gorkhaland state, something that the party hopes will be echoed by the BJP in the parliament.
Speaking about the party's strategy, BJP leaders explained that while there is a strong support for the BJP among voters – the party still doesn't have the kind of organisational penetration that the Trinamool Congress, or even the Left continues to have in rural areas. "Apart from Amit Shah meeting voters directly, our workers will also work ceaselessly to explain to voters that the BJP is the only alternative to the TMC in Bengal. The Left and the Congress are dead. If people want to be free of Mamata Banerjee then the BJP is only option," said the leader.
The BJP hopes that the Sangh Parivar-supported Ram Navami rallies, which drew flak from political parties, had got the message across. A state committee BJP leader told The Indian Express, "The state is completely divided on religious lines. This is not the BJP's doing, but the result of decades of Muslim appeasement, first by the Left and now Mamata Banerjee. Hindus in the state are afraid and hope the BJP is the solution to their problems. And the reality is that we are the only ones who can help them."
The BJP and the TMC have been at loggerheads at the state over the issue of Ram Navami, with Mamata Banerjee alleging that the BJP was attempting to "spread communal hatred" in the state.