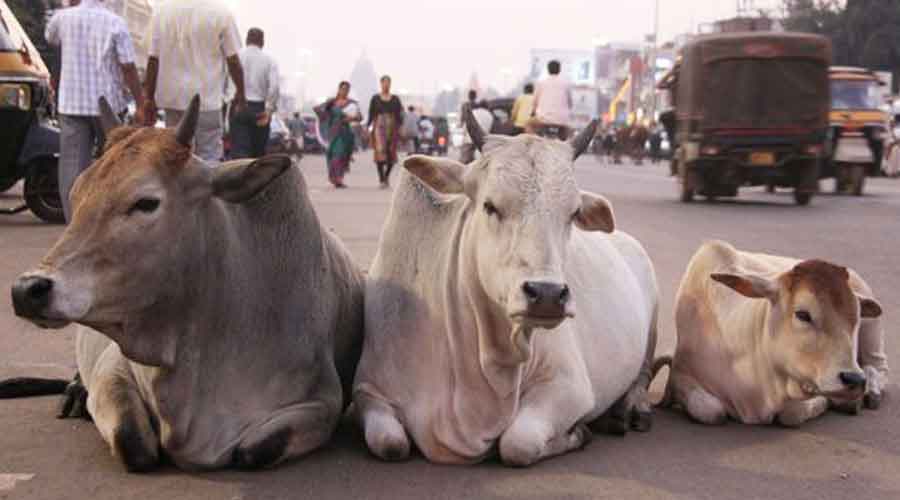 When science keeps silent Judge's unfounded claim on cow sparks debate:
Scientists feel that the claim, now iterated in a court order and attributed to scientists, underlines the need for authoritative scientific voices
G.S. Mudur | TT | New Delhi | 04.09.21 : An observation in an Allahabad High Court judge's order that "scientists believe the cow is the only animal that both inhales oxygen and exhales oxygen" has prompted a section of Indian scientists to wonder whether silence from
within their community fosters erroneous claims among unsuspecting public.
Justice Shekhar Kumar Yadav of Allahabad High Court, while dismissing the plea of a man accused of cow slaughter, said in his order on Wednesday: "
Vaigyanik yeh maante hain ki ek hi pashu gaay hi hai jo oxygen grahan karti hai, oxygen chhorti hai
(Scientists believe that the cow is the only animal that both inhales oxygen and exhales oxygen)."
BJP leaders Trivendra Singh Rawat, when he was Uttarakhand chief minister in 2019, and Vasudev Devnani, when he was education minister in Rajasthan in 2017, had also said that the cow was the only animal that exhaled oxygen.
Scientists have pointed out that breathing isn't 100 per cent efficient and all breathing creatures on earth inhale and exhale some oxygen.
Human-exhaled breath itself contains around 16 per cent oxygen, among myriad other constituents. Human-exhaled breath typically contains 78 per cent nitrogen, 16 per cent oxygen and 4 per cent carbon dioxide, among other gases, water vapour, inorganic volatile organic compounds such as acetone and ethanol and other compounds, according to a 2020 review paper by scientists at the Central Glass and Ceramics Research Institute, Calcutta.
"It is unfortunate that the order cites this claim," said Arunabha Mishra, professor of chemistry at Vidyasagar College, Kalyani, and a member of the All India People's Science Network, a consortium of over 30 non-government groups nationwide involved in promoting science and scientific temper.
"The order may be cited in future court proceedings," Mishra added, explaining the context for his comments.
Mishra and other scientists have said they are not familiar with the details of the specific case itself and their comments are restricted to elements of the order relating to cows and attributed to scientists.
Some scientists feel that the claim on oxygen, now iterated in the court order and attributed to scientists, underlines the need for authoritative scientific voices to counter such assertions when they are first aired.
"If scientists keep quiet about misleading claims, then unsuspecting non-experts might assume that scientists agree with them," said Aniket Sule, associate professor of physics at the Homi Bhabha Centre for Science and Education, Mumbai.
One option, some scientists say, would be for the country's three science academies to issue public statements countering erroneous claims. But fellows of the academies say there would always be a debate on what to say and when to say it and whether these organisations should respond at all.
"Many of our colleagues tell us not to bother countering such claims," Sule said, adding that they argue that the claims are so unscientific "that no one, not even non-experts, would believe them".
But, he pointed out, "in the absence of vocal opposition from scientists, non-experts, whether celebrities or legal minds, might begin to mistakenly assume scientists agree with the claims".
The All India People's Science Network has counted nearly a dozen misleading claims made by central or state ministers since Prime Minister Narendra Modi in October 2014 cited Ganesha's elephant nose as a signal of plastic surgery in ancient India.
One government functionary had claimed that Charles Darwin's theory of evolution was wrong, another claimed that the Vedas had a "theory" superior to Albert Einstein's energy-mass equivalence equation, yet another had claimed that yoga could cure cancer.
Claims about cows have proliferated. A Union government agency named the Rashtriya Kamadhenu Aayog, tasked with the conservation and protection of cows, had claimed last year that cow dung could shield people from radiation.
"It is not surprising to see the claims on oxygen or Panchgavya — such claims have been made earlier, but not in a court order," said Soumitro Banerjee, professor of physical sciences at the Indian Institute of Science Education and Research (IISER), Calcutta.
"But it is surprising to see the claim on oxygen attributed to scientists," said Banerjee, also the general secretary of the Breakthrough Science Society, an organisation created by scientists across the country to promote scientific thinking and to "foster consciousness against unscientific beliefs, superstitions, fanaticism, communalism and casteism".
The judge's order mentions that Panchgavya, prepared from cow milk, ghee, curd, urine and dung, helps in the treatment of several hard-to-treat diseases.