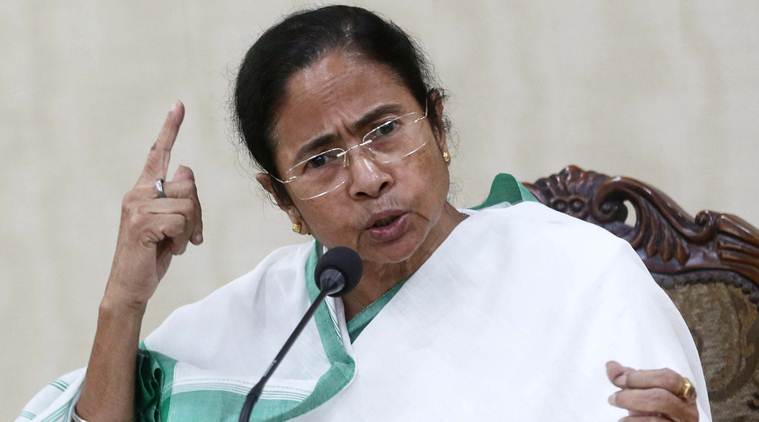 TT, Calcutta: Mamata Banerjee on Thursday trained her guns on the BJP, calling it a "militant organisation" that spread hatred, signalling that targeting the "divisive politics" of the saffron camp would be her strategy in the run-up to the Lok Sabha polls.
"Unlike the BJP, we are not a militant organisation. They are arrogant, intolerant and religiously biased. They hate Muslims, or Christians, or Sikhs or any other non-Hindu community. They do not even like all Hindus. They discriminate between upper and lower castes.... Their culture is that of lynching," said Mamata at the Netaji Indoor Stadium.
"Their destructive politics is an insult to civilisation," she added.
Sources in her party said Mamata now made no bones about her national ambition and was in Lok Sabha poll mode, which is why national politics figured in much of her speech even at Thursday's extended core committee meeting of her party.
The meeting was attended by over 10,000 elected representatives from various levels, called largely for a review of the panchayat polls.
Mamata, who alleged that the BJP in Bengal was in a secret entente with the Congress, the CPM and the Maoists in a bid to oust Trinamul, called the purported nexus the "darkest underbelly" of political society.
"You must always remember that the people of the entire country look up to us now. They want to know what we will do, what we will say, what path we will follow," she said.
"For that, we must always be cautious against sending out the wrong message, a wrong example.... We have to set the tone," she added.
Mamata accused the BJP of influencing election results through unfair means, ranging from manipulation of electronic voting machines to handing out cash to voters.
"Work on the revision of the electoral rolls has begun. Monitor everything cautiously so that there are no irregularities. The BJP is in the habit of tampering with EVMs. When the time comes, work on three shifts, for round-the-clock supervision against such malpractices," said Mamata.
Mamata's attack invited a strong reaction from the BJP's national leadership, with senior leaders such as Mukhtar Abbas Naqvi and Kailash Vijayvargiya demanding her resignation.
"The champion of appeasement politics should step down on moral grounds, having turned the state into a hub of political murders," said Vijayvargiya. Minister Naqvi said his party did not need character certificates from Mamata. "Bengal is a haven of anarchists," he said.