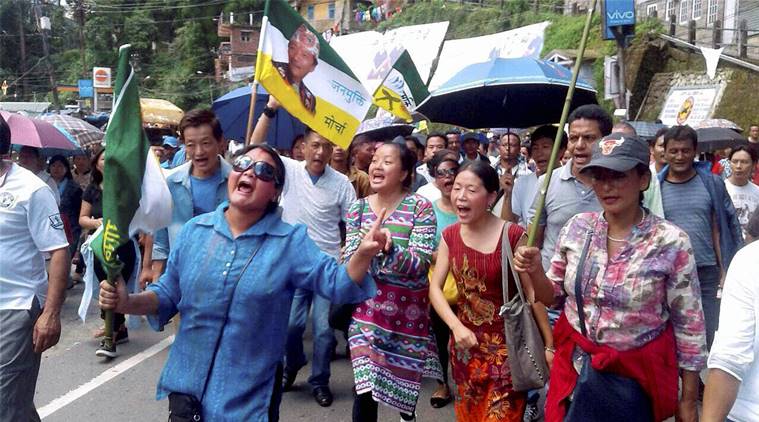 ENS, | Kolkata | August 6, 2017 : Gorkha Janmukti Morcha (GJM) chief Bimal Gurung on Saturday gave a call for a 'Tiranga' rally on August 8, as the indefinite strike in Darjeeling Hills, demanding a separate state of Gorkhaland, entered the 52nd day. The rally will coincide with Prime Minister Narendra Modi's call for the same to mark the 75th anniversary of the Quit India Movement. Only, the rally, to be taken out in Darjeeling Hills, will be a call to end the "colonial Bengali rule" and raise slogans such as 'Bengal — Darjeeling Chodo'.
In a statement, Gurung said: "It has been decided that the Darjeeling Hills, Terai and Dooars will also be participating in the Tiranga Yatra. Just as how the British had enslaved us Indians and exploited and tortured us, the West Bengal government has also kept the people in Darjeeling Hills, Terai and Dooars in a slave-like condition. Despite 70 years since Independence, people living in our region have not been accorded any freedom, we are still living under colonial rule.''
He added that the rally in Darjeeling will not only celebrate "our glorious freedom struggle" but protest "Bengal's colonial rule" and therefore, will be marked with slogans such as 'Bengal — Darjeeling Chodo'.
The last rally taken out by GJM supporters in Sukna near Siliguri had seen widespread violence and clashes between police and protesters. Meanwhile, while rallies are being taken out consistently in the Hills for a separate state, the Gorkha leadership has shifted its base to New Delhi, where it held an all-party meeting on August 1. GJM general Secretary Roshan Giri, however, said party leaders were yet to meet the central leadership to discuss the issue of the separate state.
Earlier, the GJM had unilaterally decided — despite setting up of Gorkhaland Movement Coordination Committee comprising parties and outfits in the Hills — that unless there was progress in discussing the issue and the Centre made concerted efforts by August 8, it would intensity its movement from August 9, calling a total shutdown of the Hills, in which even vehicles would not be allowed to ply. Residents have been been told to "stock up" on rations and essential goods, said sources. GJM supporters on Saturday took out rallies in various parts of the Hills, demanding restoration of Internet services, which have been suspended since June 18, and an immediate withdrawal of police personnel from the region.