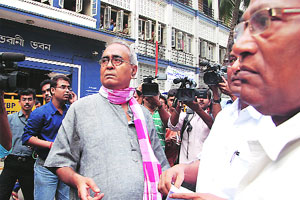 SNS, MALDA 3 JUNE 2017: The Gorkhaland Territorial Administration (GTA) is still to file any account on utilisation of a Fund of almost Rs 20 crores to the Cinchona Plantation project there, alleged the state minister for horticulture, Mr Abdul Rezzak Mollah in Malda today.
This veteran and former marxist leader also stated that the peace in hills could not be restored only by policing, though he could not suggest any way out for peace restoration and rather referred to the chief minister of the state for the answer.
He was here today to visit the food park, pack house and attend a meeting with the departmental officials and others like mango growers and exporters.
Mr Mollah said, `We cannot ask for any accounts for the cinchona project as the situation there is well known to all of us but peace cannot be brought back only with the help of police with sticks in their hands. I cannot say the best possible way out. The chief minister Mamata Banerjee could say better."
Mr Mollah also revealed the planning of his ministry about the development of horticulture in the state by declaring special packages for north and western side of the state.
North Bengal will be allotted special package based on fruit production like pineapple and oranges whereas 147 gram panchayats of the dry districts of the west like Purulia and Bankura have been primarily selected to be undertaken in the proposed Special Fruit and Vegetable Zone. There is also a planning to establish a unit to certify seeds for we have to bring seeds from Chennai," added the minister.
A stress also was laid by him on the participatory farming in the state where the growers and exporters came under a memorandum of understanding for not to leave each other's hand in profit or loss.
"Malda mangoes of the Fazli variety are going to London and Rome through an exporter's farm through Kolkata till recently and primarily it has been been fixed that two metric tons of the fruit will be sent every day," he declared in his own remarkable style
The assistant director of the district horticulture department, Mr Rahul Chakraborty said that a product of almost 4 lakh 70 thousand matric tons of mangoes have been seen in the district and 40-45 percent of it was still in the trees.