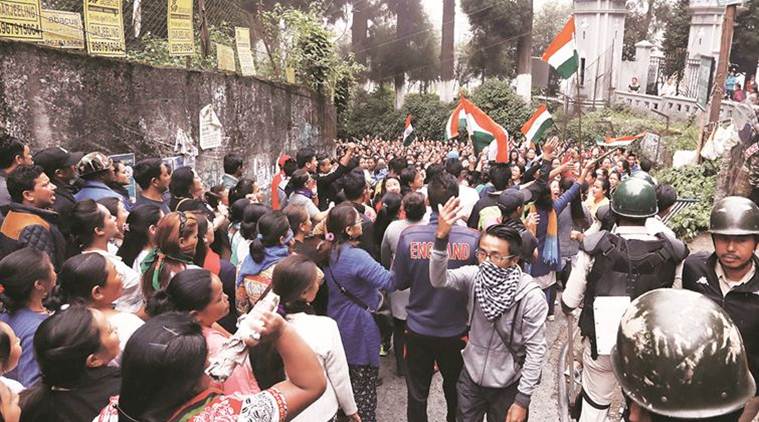 KINSUK BASU, TT,

Darjeeling, June 19:

Boarders in hundreds, mid-term exams, ration stocks running low and frantic calls from parents - schools across Darjeeling and adjoining areas are grappling to come to terms with the indefinite agitation.
There are over 18,000 students in the 10-odd Anglo-Indian schools and 43 other ICSE institutions across the hills. All the schools have remained shut since the Gorkha Janmukti Morcha's call for an indefinite strike from June 15, leading to confusion over how the academic calendar would proceed.
"The calendar, including the dates for the summer vacation and exams, is drawn up after consulting other schools," said Robindra Subba, the director of Himali Boarding School in Kurseong. "We are not sure how to send our boarders home after the vacation begins on June 23. Arranging for logistics would be a huge challenge."
It's not just arranging for logistics alone.
Most of the schools with a considerable number of day scholars have been forced to work out separate schedules for holding the mid-term exams. While the boarders are being asked to take the tests now, a separate set of question papers is being readied for the day scholars, who are finding it increasingly difficult to leave home.
"We have 520 boarders from Classes II to XII who are taking the exams now. We have around 550 day scholars who would be writing the tests later. That is, when the school opens. Nobody knows when that would be," said Shajumon C.K., the rector of St. Joseph's School (North Point) in Darjeeling.
Many hill schools with boarders are holding two exams a day instead of one, hoping to send the students home if the Morcha suddenly decides to relax the strike at this juncture.
Some of the top schools in Darjeeling and its adjoining areas have students from Thailand, Nepal, Sikkim and Dubai, apart from Delhi, Mumbai and Bangalore.
In the middle of the shutdown that has forced groceries and other business establishments to down their shutters, many schools expressed fear that ration stocks would not last for more than a week.
"There are 437 students in our hostels right now. The parents have finalised their travel plans keeping in mind that our summer holidays begin from June 24," said a senior teacher of St Paul's School in Darjeeling. "We can only hope there would be a way out of the impasse."
As of this evening, the Morcha top brass hadn't given any indication to suggest that it will either relax or withdraw the strike.
Parents sounded equally perturbed.
"I had called up to enquire about my son and the school authorities told me they were doing everything to keep the hostel members engaged," said the father of a student of Goethals School in Kurseong.
Several school officials said they wanted to speak to someone from the Morcha to find out what lay ahead but did not know whom to approach.
"We are praying hard so that this strike ends," said a teacher of a school in Kalimpong.
People from the plains who have their children studying in the hill schools said they had been making frantic calls every hour.
Many of them said they were glued to television sets from the morning to get an update on the hill situation.
"My son and nephew study in Class IX at St. Paul's School. They have been there since Class V and so far, they have never come across such a situation. We have spoken with the school authorities, who have assured us of their safety," said Md Kalim Munna, a Cooch Behar resident.
Many Morcha leaders whose children study in the hill schools said they were waiting for the outcome of the all-party meeting tomorrow to know the future of the agitation.
"I am not sending my son to school. The exams that most schools are talking about now can be rescheduled once things normalise. They are not board exams," said Narbu G. Lama, an elected GTA Sabha member from Takdah.
MAIN UDDIN CHISTI IN COOCH BEHAR