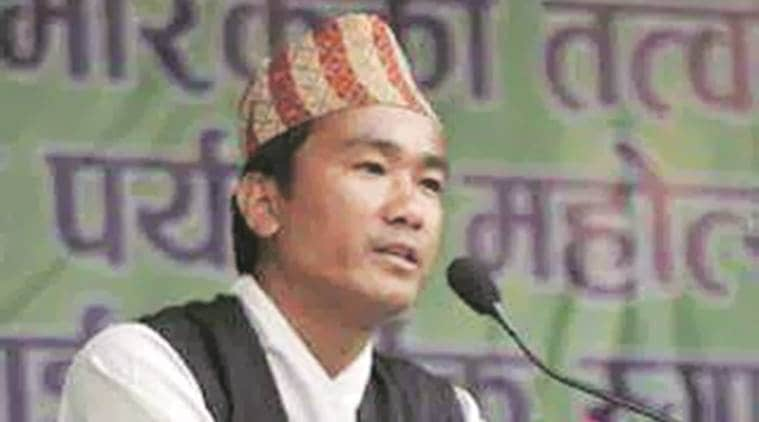 Purna Singh Rai, who was arrested, received bail on Tuesday
ENS | Kolkata | June 7, 2017: Gorkha Janmukti Morcha's district general secretary of Saureni constituency, Purna Singh Rai, received bail on Tuesday after his arrest on Monday afternoon for organising a protest against Chief Minister Mamata Banerjee over her "forced imposition of Bengali language" in the Darjeeling hills.
Singh was in charge of the march in which GJM supporters carried black flags and shouted anti-Mamata slogans. GJM leaders said Saureni falls on the route leading to Mirik, and the route that the Chief Minister was taking to hold her public meeting the same day. Singh was released after the GJM issued an ultimatum, saying they would launch an indefinite strike across the hills.
"It is completely undemocratic that a leader would be arrested for organising a protest. There were lots of protesters, but since he was the leader, Singh was arrested. Mamata Banerjee, in her speech yesterday, has sent out a confusing and ambiguous message. All this while, she has been saying Bengali will be made a compulsory subject across Bengal. Yesterday, she said it was optional. Then she went on to say it will be an optional compulsory subject. What does that even mean? Bengali is already an optional subject in many schools across Darjeeling, and many students already take it," said GJM spokesperson Binoy Tamang.
This is the first time a non-Gorkha party has formed a municipal board in the Darjeeling hills, and the TMC's recent win in Mirik has been a milestone. This is Mamata's first visit to the sub-division after the victory, and she announced a slew of sops for the area on Tuesday, after holding a public meeting on Monday.
The chief minister on Tuesday said her government will "recognise the Nepali language", and clarified that "Bengali language is not compulsory in the hills, but optional". She further said 2,582 families living in Mirik will be given pattas by her government by July 5, making them the rightful owners of their land.
Ownership of land has been a long-standing demand in Mirik, and one of the main platforms that Mamata fought the municipal elections on. Before the elections, she had announced that residents of Mirik will be given pattas (or titles) to their land. The GJM had expressed reservations over the move, questioning the timing and intent behind it, as well as the legality of signing over land that is owned by the state government.
Mamata further announced that as many as 60 cottages will be built by the state government in Mirik tea garden to "boost tourism" in the area, and handed over appointment letters to 30 voluntary teachers.
"We don't have a problem with the administrative decisions that she has taken, and are willing to cooperate for the development of the area. Our one big issue is the imposition of the language," said Tamang.
Last week, Sadar Bazar police station had lodged a suo moto FIR against GJM leaders including Tamang, GJM chief Bimal Gurung, general secretary Roshan Giri and several well-known academics in Darjeeling, for holding an "indoor meeting" to plan protests regarding the Bengali language issue. Tamang said the 3 GJM MLAs met the Speaker of the state Assembly on Tuesday and handed him a memorandum putting forth the demand for Gorkhaland.