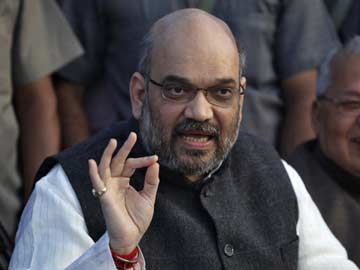 News 18.com, 27 June 2017, Kolkata: Three top West Bengal BJP leaders, including the state unit president Dilip Ghosh, were on Tuesday summoned by the party president Amit Shah for making "unneeded" statement over the Gorkhaland issue.
Besides Ghosh, BJP National General Secretary Rahul Sinha and BJP General Secretary (Organisation) Subrata Chatterjee will meet Shah in Delhi on Tuesday evening.
A party insider claimed that Shah was annoyed with the leaders for making statements to the media that they are not in favour of separate Gorkhaland. He felt that the statement from them was 'not necessary' when the Hills are burning.
He reportedly discussed the matter with senior BJP leader Kailash Vijayvargiya and Ram Lal (BJP General Secretary - Organisation).
On June 24, Dilip Ghosh had said that they are not in favour of formation of states on the basis of any linguistic group or community.
"Our stand is very clear that we are not going to support separate Gorkhaland. If we agree on Gorkhaland, then what will happen to Kamtapuris, Rajbanshis. What will happen to Assam where a large number of Gorkhas are present," he had said.
It was learnt that party leaders in Delhi told state BJP leaders to refrain from making such statements as this will help Mamata Banerjee in dealing with the Darjeeling issue and she may use this for her political gain by claiming that there is a rift between the state and the central BJP.
"Apart from Gorkhaland, Amit Shah ji is will discuss state politics, vistarak programme and BJP's present stand on Bengal," a state BJP leader said.
Meanwhile, West Bengal Governor Keshari Nath Tripathi refused to accept Gorkha Janmukti Morcha (GJM) president Bimal Gurung's resignation from Gorkhaland Territorial Administration.
He, however, accepted the resignation of other 43 Gorkhaland Territorial Administration (GTA) members.
Sources said the Governor asked Bimal Gurung – who went underground - to submit his resignation letter personally to him at Raj Bhawan in Kolkata.
A source in state secretariat said, "The government is building pressure on GJM to call off the strike. The state agencies have managed to track his (Bimal Gurung) location and it only a matter of time that he is arrested."
(Source & Courtesy:
http://www.news18.com/news/politics/amit-shah-summons-bengal-bjp-leaders-for-saying-no-to-gorkhaland-1444507.html)