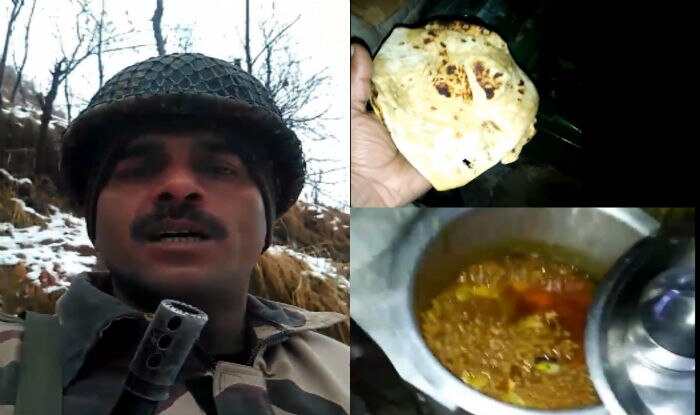 Imran Ahmed Siddiqui and Muzaffar Raina, TT, April 19:

BSF constable Tej Bahadur Yadav, who had uploaded video clips to complain that troops were served substandard food, has lost his job.
The BSF said he was dismissed by a summary security force court for "an act prejudicial to good order and discipline".
At least two former directors-general of the force backed the decision, saying indiscipline should not be condoned. The security establishment was also keen to send a message to nip in the bud copycat uploads by other uniformed personnel.
However, in the fairly detailed account by the BSF, one factor stood out: there was little information on the specific charges levelled by Yadav, 41, who stands to lose his pension too after 20 years of service if an appeal does not overturn the dismissal.
Yadav had made three specific charges: dal was watery, chapattis were burnt and the cause was pilfering of provisions by some officers who were selling it in the market.
BSF spokesperson Dharmendra Parekh said in Srinagar that Yadav had made "false allegations on social media regarding quality of food and did not adhere to the formal grievance redress mechanism of the force".
But the force did not clarify how an inquiry conducted this month concluded that the dal served either in January (when the video was uploaded) or before was not watery and the chapattis were not burnt.
A BSF spokesperson in Delhi, Subhendu Bharadwaj, said:
"During the court of inquiry, he could not substantiate the allegations of poor quality food and siphoning of rations. He could not furnish any substantial evidence."
The absence of details on this count was striking since the BSF had taken pains to explain the nature of the indiscipline.
One, Yadav posted videos in uniform. Two, he carried two mobile phones against service rules while on duty. Three, he did not adhere to the formal grievance redress mechanism. All the three charges are verifiable and he was found guilty on all counts.
But similar specifics were not made public on how Yadav "made false allegations on social media regarding quality of food". The video uploaded by Yadav had shown a half-burnt roti and dal with a commentary that it was just water mixed with turmeric and salt.
Yadav, who received his dismissal order at noon and moved out of the cantonment with his belongings in Samba, said: "I still have the proof with me (the video he had posted on Facebook). I am yet to get justice and will move the Supreme Court as I have faith in the system."
Yadav has the option of appealing to a higher paramilitary tribunal within three months. In case of a negative verdict there too, he can approach the Supreme Court. He said he was "happy" there had been "70 per cent improvement after I complained".
The jawan's allegations in January this year had triggered outrage and prompted the Prime Minister's Office to ask for a report from the Union home ministry.
The BSF, which reports to the home ministry, had initially said the jawan's "mental condition was not good" and that "all was well" with the quality of the food the soldiers get, but the ministry rejected the claim and ordered a probe. The force later announced several steps to ensure quality food, including a crackdown on alleged pilferage of rations.
Yadav's family had earlier alleged that he was being tortured and harassed for "speaking the truth".
Sources said the BSF brass were upset with Yadav as he had posted a fresh video last month, accusing the force of mental torture, and requested Prime Minister Narendra Modi to intervene.
In February, Delhi High Court had directed the ministry to allow Yadav's wife Sharmila Devi and his small son to stay with him for two days at Jammu and Kashmir's Samba base where he was deployed.
Sharmila had moved a habeas corpus plea alleging that Yadav was being subjected to torture by his superiors and the family had no clue about his whereabouts.
The action against Yadav came a week after a parliamentary panel on home affairs had slammed the Centre for its "insensitive" approach towards paramilitary force jawans.
In a report submitted in the Rajya Sabha on Tuesday last week, the panel had expressed "deep anguish" over BSF jawans getting less sleep and being forced to work 16 to 18 hours a day because of manpower shortage.