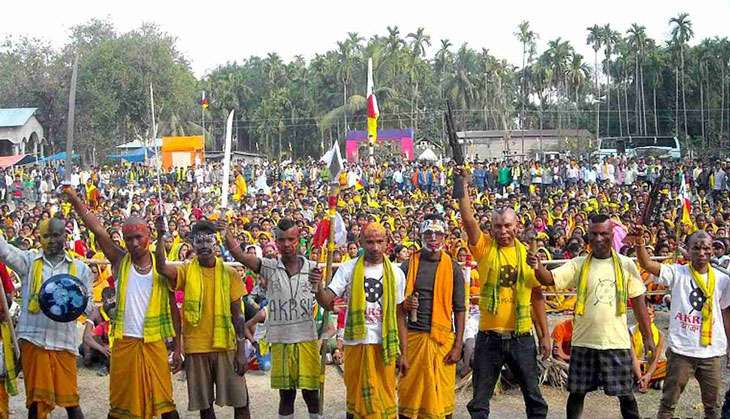 TT, Siliguri, April 14: Mamata Banerjee has managed to turn Kamtapur Progressive Party in favour, courtesy the state's decision to recognise the Rajbangshi language and assurance that some other demands of the party would be met.
The KPP, which was formed with the demand of separate Kamtapur state and recognition of Rajbangshi language, had allied with the BJP for the 2014 Parliament polls. The party has considerable clout among the Rajbangshis in north Bengal.
"For the past few years, the KPP leaders were disgruntled with the chief minister and the government as they were focusing on different hill communities and the tribals in plains. Many times, they had articulated their grievance that there are several Rajbangshis who are weak in social and economic parameters and need support from the state," an observer said.
The first announcement that helped Mamata win the KPP's support is that the state would recognise the Rajbangshi language. Further, last month, she announced that the state would form a council for Scheduled Castes.
"Now that the rural polls are due next year, Mamata Banerjee and her party cannot leave their demands unattended. The decision to accept some of the demands made by the KPP has turned the party in her favour and most importantly, will help Trinamul in consolidating support base in the Rajbangshi-dominated belts," the observer said.
Today, Atul Roy, the KPP president, said they would felicitate the chief minister in Cooch Beharon April 25.
She has accepted most (four out of five) of our demands including the recognition of our language. That is why we have decided to felicitate her at a public meeting in the Rash Mela ground of Cooch Behar onApril 25," Roy said.
The other three demands which Roy claimed that the state had accepted include introduction of Rajbangshi language as a medium of instruction in primary schools, setting up of BhawaiyaAcademy in the name of famous folk artist Abbas Uddin Ahmed and withdrawal of criminal cases pending against KPP leaders.
"This is the second time that the chief minister would be felicitated in the plains. Earlier, the tribals had felicitated her for the state's decision to set up the tribal advisory council and the tribal task force," a source in the administration said.