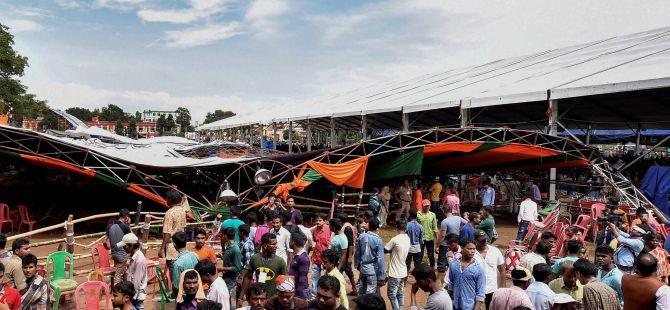 TT, Calcutta: The Bengal BJP president, Dilip Ghosh, said on Thursday that the tent collapse at the Prime Minister's rally in Midnapore was "an accident" and the state party lacked experience in handling big political events.
The admission marked a 180-degree shift from the "deep-rooted conspiracy" theory that the BJP had been rolling out since Tuesday to pass the buck on to the state government.
"What happened at the rally was an accident. We lacked experience in holding such a big rally. We even failed to predict the size of the crowd. The turnout surpassed our expectation of four lakh by 2.5lakh," Ghosh told a news conference.
Even before a team from the cabinet secretariat reached Bengal on Tuesday morning to conduct a probe into the canopy collapse, state BJP leaders went all guns blazing at the district administration holding it responsible for the accident.
But in a sudden shift from what BJP leaders had been saying since Tuesday afternoon, Ghosh looked apologetic on Thursday.
"We will not hold an open air rally till the Pujas and even if we do, we would use the hangar technology," Ghosh said, giving clear indications that the party would not risk open-air rallies in monsoon.
Ghosh also said the party would press into service more volunteers and deploy engineers to ensure the stability of structures at meeting venues.
These announcements bear significance as Modi is expected to visit Bengal again in September.
A BJP insider said: "Today (Thursday), Dilipda almost owned up the responsibility. This is a clear hint that the probe team from Delhi has not found much fault with the state administration, which means there was mismanagement at our end. That's why the change in stand."
Sources said police had been directed to "go slow" with the case on the tent collapse as the matter was "very sensitive".
The case (for attempted culpable homicide, not amounting to murder) was registered on the basis of a complaint lodged by a Midnapore man called Indrajit Hajm against the decorators and the organisers of the rally.
Hajm's sister Kabita on Thursday claimed that her brother had not been in Midnapore for weeks and was not present at the rally.
Sources said the complaint might have been lodged in Hajm's name by somebody interested in embarrassing the BJP. "Such things are not uncommon," said a source.