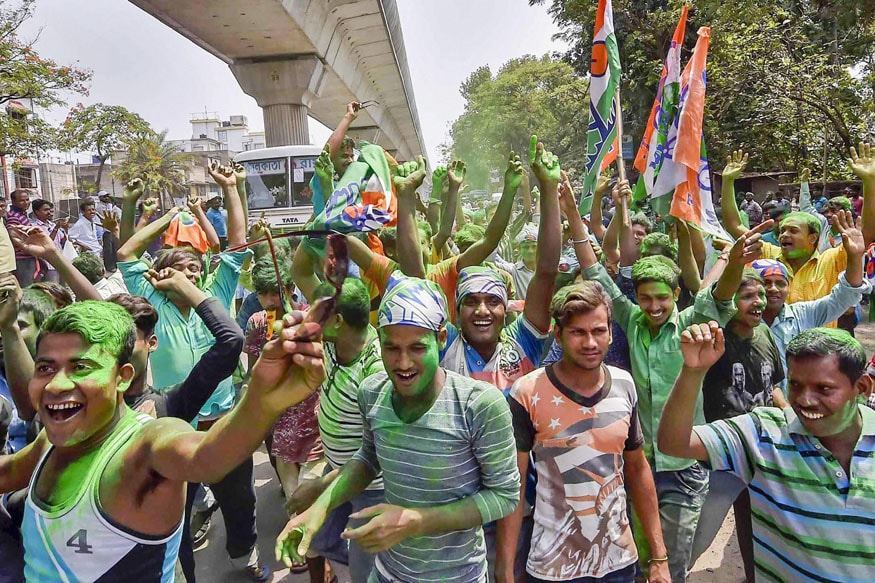 TNN | KOLKATA: Trinamool Congress has gained an unprecedented stranglehold on Bengal's three-tier village administrative system, gaining 95% of zilla parishad seats, 90% of panchayat samiti seats and 73% of gram panchayat seats that went for polling and for which results were declared on Thursday night.
More than a third of the seats didn't see any contest and the Calcutta high court stayed announcement of those results in a directive last week. If and when those results are announced, Trinamool's victory percentage may improve as most of the "walkover winners" are, according to officials, likely to be Trinamool candidates.
However, in a clear indication of growing dissent against the ruling Trinamool, BJP made significant inroads into villages across Alipurduar, Jalpaiguri, Jhargram, Purulia and parts of West Midnapore and even Birbhum, which stood out for the large number of uncontested seats, where saffron party candidates won more than 20% gram panchayats that went to vote.
All the districts where BJP has performed well have something in common: a substantial tribal population. The consolidation of anti-Trinamool votes behind BJP shows this bloc can disturb the settled political hierarchy in at least three Lok Sabha seats named after the districts (Alipurduar, Jalpaiguri and Jhargram).
Didi should dedicate her victory to the goons, dadas and rowdies of TMC to motivate them further..
Trinamool, on the other hand, has successfully decimated Congress in Murshidabad and taken a massive lead in Malda and North Dinajpur — all erstwhile Congress strongholds — which means it will be in pole position in as many as six Lok Sabha seats (Murshidabad, Behrampore, Jangipur, Malda Uttar, Malda Dakshin and Raiganj) next year.
Trinamool chief Mamata dedicated the massive victory to "the people of Bengal and martyrs' families", while the opposition called the 2018 panchayat election "a farce".
Get latest news & live updates on the go on your pc with News App. Download The Times of India news app for your device. Read more City news in English and other languages.