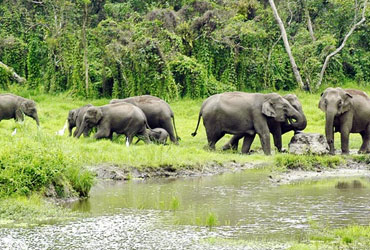 TT, Alipurduar: A forest worker died after he was hit by pellets shot by a forest guard on Friday as the latter tried to ward off a wild elephant that had come in their way while patrolling at a forest stretch in Madarihat block of Alipurduar.
The incident has prompted forest officials to order an inquiry.
Sources said the incident took place at Titi-III compartment under Bhagatjote Beat, in Lankapara Range of Jaldapara wildlife division.
At around 9am, Kabi Rava, a forest guard went on routine patrolling at the forest with three contractual forest workers. Suddenly, they came across a wild tusker.
This made member of the forest team to disperse different ways. Meanwhile Kabi, in a bid to deter the elephant, fired pellets from his gun at the animal.
"Markos Ekka, one of the three forest workers, was standing on the same side towards which Kabi pointed and fired his gun. The sound of firing made the elephant walk away but the pellets hit Ekka on his torso," said a source.
The 24-year-old worker was rushed to the primary health centre in Madarihat and from there to Alipurduar district hospital. He died in the afternoon, around 30 minutes after admission.
"We were patrolling on foot. As the wild tusker came in front of us, we got frightened and all of us scattered to different places. As the elephant still started heading towards me, I fired at it. I had no inkling that Markos was standing in the same side from where the elephant was approaching. The pellets hit him," said Kabi, the forest guard.
The deceased youth, sources said, had joined the department as a casual worker in Lankapara Range three months back.
The incident made senior forest officials react and order an inquiry.
"It is a rare mishap. Preliminary information suggests that as the group disintegrated, the worker had moved on the same side from where the elephant was approaching at them. The guard on the other hand, had no idea and he fired pellets to ward off the elephant. We have ordered an inquiry," said Kumar Vimal, divisional forest officer, Jaldapara wildlife division.