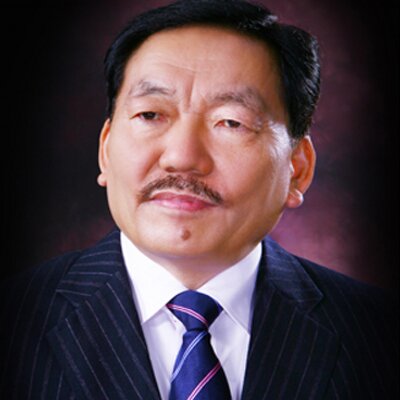 TT, Siliguri: The fugitive Darjeeling leader, Bimal Gurung, has congratulated Sikkim chief minister Pawan Chamling for becoming the longest serving chief minister in India.
In a press release, Gurung, has referred to the hard times that Chamling had to face in the early nineties, that is, before and immediately after forming the Sikkim Democratic Front.
Chamling had to stay outside Sikkim for some time then.
"There was a time when he (Chamling) was forced to live outside Sikkim following threats to his life, but he never gave up on the land of his forefathers, and its people. Instead, he struggled to restore democracy and rule of law in Sikkim. It is his never-give-up attitude, perseverance, and dedication towards Sikkim that today resulted in him becoming one of the most enduring and popular chief ministers," Gurung said.
The Gorkha Janmukti Morcha leader's remarks have been interpreted as an attempt to draw a parallel between him and Chamling to regain support in the Darjeeling hills.
"His reference to Pawan Chamling's early days is a clear indication that he wants to drive home the point that he too, has prospects of returning and regaining his position some day. These days, there is hardly any leader left in his lobby to campaign for him in open. The Morcha leader wants to win back support and hence, tried to use the opportunity of greeting the chief minister of Sikkim to pass the message among the hill people," said an observer.
Gurung hasn't appeared in public in the hills after the Bengal government slapped several cases on him in connection with the violent statehood movement last year.