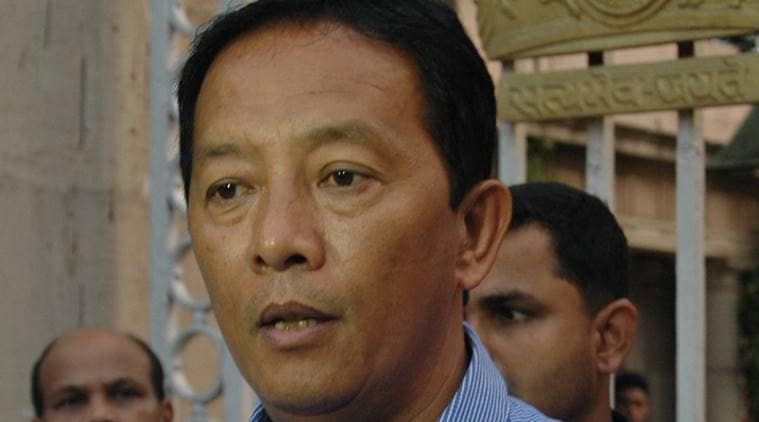 Vivek Chhetri, TT, May 19, 2018, Darjeeling: The GTA and district administrations in the hills have decided to revive a government initiative to provide land to the landless and homeless.
The initiative is generating much enthusiasm in the hills as more than 60 per cent of the people do not have any land rights despite tracing their ancestry to generations centuries ago.
Binay Tamang, chairperson of the board of administrator of the GTA, said: "The GTA today (Friday) held a meeting with the district officials of Darjeeling and Kalimpong districts. We have decided to provide land rights to the landless and homeless by reviving the Nijo Griha Nijo Bhumi Pralkapo in the hills."
Under the scheme, landless and homeless, even if they are occupying government land, are given 5 decimals of land.
The scheme was launched in Bengal on October 18, 2011, but the same could not be continued in the hills after Bimal Gurung, the then chief executive, GTA, was unhappy that the distribution was being done without consulting the GTA.
On January 29, 2013, during a function to distribute land pattas (rights), Morcha supporters had shown placards that read: "Gorkhaland is the way to all-round progress in the hills, Terai and Dooars" in response to the chief minister's assertion "Darjeeling is part of Bengal".
Subhomoy Chatterjee, working president of TMC (hills) who was then a Darjeeling municipality councillor of the Morcha had taken the lead in showing the poster written in Bengali.
Sources had then said that Gurung was miffed that GTA was not consulted before the pattas were distributed.
The chief minister, had left the stage in the huff, and many observers, believe that this was the beginning of the hot and cold relation between Mamata and Gurung.
It also heralded a new equation in the hills as Mamata then announced her desire to form a development board, from Pedong in Kalimpong. Mamta had immediately left for Pedong after the incident.
Administrative sources maintain that the scheme was kept in the backburner since then.
Tamang today said: "We have formed a three member committee comprising of BDOs, block land and land reforms office and representative of GTA to scrutinise applicants. Finallly the sub-divisional land and land reforms officers will recommend the list to the GTA which will then forward the same to the state government," said Tamang.
While residents of six hill blocks have to apply between June 4 and 9, those from Kalimpong 2 and Gorubathan have to apply from June 18-23, either at the BDOs office, BLLROs office or the nearest gram panchayat office.
The initiative is likely is immensely help the hill population and could be a game changer in hill politics. "Even tea garden workers can apply along with cinchona plantation workers," said Tamang.
However granting land to tea garden workers might take some time as the same process has also not started in the plains of Terai and Dooars.