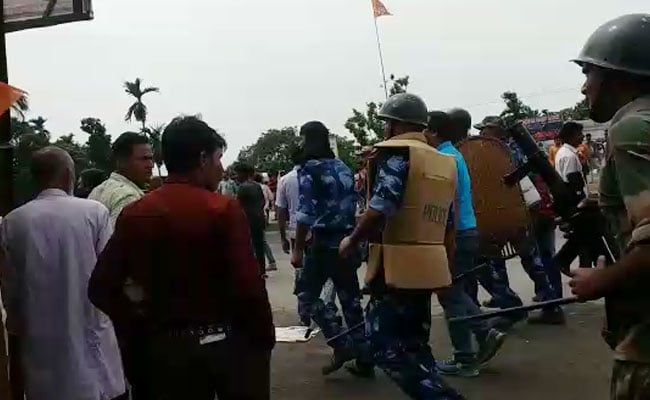 TT, Calcutta: At least two people died in election-related violence overnight amid questions about the adequacy of the security arrangements for the single-day Bengal panchayat polls on May 14.
Trinamul worker Majahir Alam, 67, was murdered in North Dinajpur on Friday night and BJP worker Jagannath Tudu, 55, in Purulia on Saturday.
On Friday afternoon, Hafizul Molla, 30, had died in a bullet-and-bomb attack on a rally in support of nine Independents in Bhangar, prompting the arrest of "expelled" Trinamul leader Arabul Islam who is alleged to unofficially head the local party unit.
Alam was hit on the head during a clash between Trinamul and suspected Forward Bloc supporters at Ibrahimpur village in Goalpokhor.
Alleged Trinamul supporters rammed Tudu's bicycle with a motorbike and beat him with an iron rod at Balarampur, the BJP claimed.
"Apart from the murders, there were attacks, ransacking of homes and bomb seizures on Saturday. All this raises the question whether the polls would be peaceful, free and fair," an observer said.
While chief minister Mamata Banerjee says 14 Trinamul supporters have been killed in pre-election violence (excluding the three latest deaths), the BJP and the CPM have claimed a combined toll of 12 supporters.
In 2013, some 25 people had been killed ahead of the panchayat elections while another 14 lost their lives during the five-phase vote.
A Calcutta High Court division bench has said that if the casualties and property destruction outstrips the 2013 figures, senior government officials and the state election commissioner would be personally liable to compensate such loss.
It said the compensation would be realised from the officials' salaries, retirement benefits and personal properties.
"The order is a clear message to the officials that they should put in every effort to stop the violence, but incidents keep occurring," the observer said.