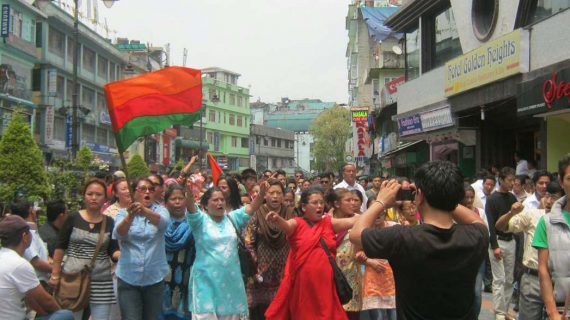 RAJEEV RAVIDAS, TT, Apr 28, 2018, Gangtok: The Sikkim Krantikari Morcha on Friday accused the ruling Sikkim Democratic Front of collecting huge sums of money from industries in lieu of exemption in income tax granted to them.
Premraj Gurung, the secretary of the SKM's labour wing, said the money had been collected from about 200 companies and runs into crores of rupees.
"These companies have been exempted from paying income tax, but the ruling party instead is collecting goonda tax from them in the guise of donations. The money collected from income tax would have gone to the state exchequer, but the donation money is going to the coffers of the SDF," he alleged.
Gurung cited data collected from a website of an NGO to back his claim. "The data are based on the documents submitted by the SDF to the office of the Election Commission of India. Some companies have paid more than Rs 2 crore in a single financial year," he added, showing the documents downloaded from the NGO's website.
The Telegraph could not independently verify the documents.
K. T. Gyaltsen, the SDF spokesman, however, sough to pooh-pooh the SKM allegations. "The allegations are nothing but baseless, concocted and politically-motivated lies being labelled to fool the people. If they have an iota of proof, they can seek justice in a court of law," he said.