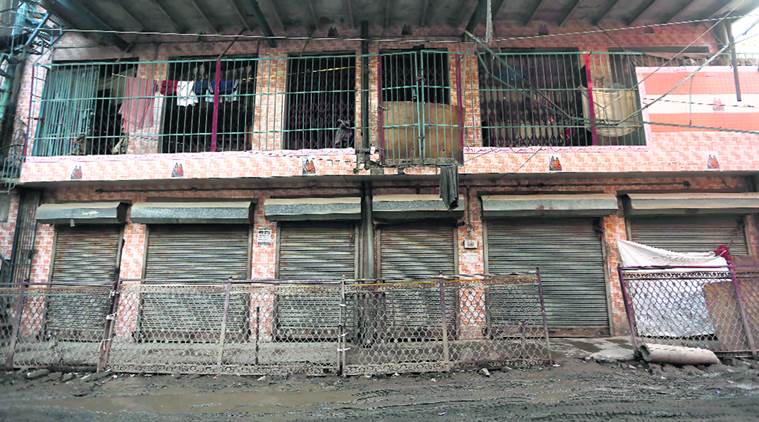 The old office in north Delhi's Gopalpur village (Gajendra Yadav)
Anand Mohan J , Shradha Chettri | IE | December 17, 2017, Delhi : Over the last decade, a small-time racket with origins in Gopalpur grew into the fake 'Board of Higher Secondary Education', which managed to con 20,000 people and 300 schools across the country.
Indian Express trace the journey of a scam that was finally busted with the arrest of six people earlier this month
House number 700 in north Delhi's Gopalpur village doesn't show up on Google Maps. But as one nears the village, almost everyone knows it used to be 51-year-old Mange Ram Acharya's residence. The two-storey building, which has earned the moniker 'house of frauds' among residents, looks like an abandoned jail, with steel barricades at the entrance and iron grills on the top two floors. The building had seen better days in 2008, when students and anxious parents would come in from faraway villages in Bihar and Uttar Pradesh. Back then, the house was the headquarters of the 'Board of Higher Secondary Education (BHSE)'.
Affiliated to more than 300 schools across India, the fake board would hand out Class X and XII pass certificates for Rs 8,000-10,000, with 'chairman' Acharya and his associates running the show. Then, in 2011, police came knocking. Fake marksheets and certificates were seized, and the board's website, http://www.bhsedelhi.org, was shut down.
The Delhi Police, at the time, said the fake board had been busted and its 'chairman' arrested. Except, six years later, history repeated itself. Between October and December, six people — Parshant Solanki, Baljeet Singh, Altaf Raza, Lakshya Rathore, Ramdev Sharma and Shiv Prasad Pandey — were arrested in raids in Delhi and Lucknow.
In the six years, BHSE had resurrected itself with a new chairman, some old players who had gone underground, a new website and a new office. That it had scaled up operations was evident from the fact that it now also had regional offices in four states — churning out fake marksheets not just for schools, but also for university courses, and managing to con more than 20,000 people from across the country.
Small home, big plans
A father of two, Acharya left his ancestral village in Gautam Buddh Nagar in the late '90s to move to Gopalpur . "He would boast that his marksheets could never be caught. It took him just one week to procure any certificate," a police officer from the North Delhi district said. When Acharya and three associates were arrested from Gopalpur on May 31, 2011, he claimed that he was a graduate from Allahabad University — something his neighbours refuse to believe. "He never finished schooling. Ironically, students would frequent his house for certificates," Ram Prasad Shukla, a neighbour, said.
Acharya's first wife, who now occupies the house, said, "I don't want to hear his name. I look after my children and we have a reputation to fight for." Acharya had left the bulk of the Delhi operations to his three associates, who were later arrested, and three others who went underground following the raids — Solanki, Sharma and Baljeet Singh. "Sharma, who was second-in-command in the 2017 racket, was responsible for finding prospective 'candidates' in 2008," an investigator said. Baljeet, Acharya's nephew from his second marriage, was the head of the Delhi operations.
"Before the raids, Baljeet handled the Delhi office while Acharya expanded to east India," the officer said. Acharya, police said, also tried his hand at politics. "He tried to contest MCD polls in the late '90s from the trans-Yamuna region. He wanted an assembly ticket from Mathura and thought the money and goodwill he had earned as 'chairman' of the board would help him," the investigator said.
However, a Rs 8,000 deal involving school certificates cost Acharya dearly in May 2011. Police received a tip-off about the goings-on in house number 700 and sent a policeman from Timarpur police station as a decoy customer, following which the board was busted. Acharya was arrested and later released on bail. Meanwhile, Shiv Prasad Pandey (65) took over as 'chairman' in 2012. Arrested during a raid in Lucknow earlier this month, Pandey told police that Acharya was arrested in another case in Rajasthan. "We are yet to corroborate these claims… Acharya's exact location cannot be ascertained as of now," DCP (Shahdara) Nupur Prasad said.
Old wine in a new bottle
Following Acharya's arrest, his mid-level associates retreated to a rented second-floor house in Budhela market in Vikaspuri — removed from public glare and concealed among mushrooming tuition centres.
The fake board needed a new 'chairman', and the soft-spoken Pandey, who dressed in suits and ties, fit the bill. Police claimed he was "the face of the board while a mastermind, who is yet to be identified, operated the racket from the shadows".
After his recent arrest, Pandey told police he had completed a five-year diploma in Ayurveda from Bihar's Bhagalpur in 1978. For the next two years, he claimed to have worked at a local post office, delivering letters. "He also told us he was the principal of a medical college in Patna from 2000-2005. Then he claimed to have joined a private company, which he quit in 2012 and retreated to a clinic in Lucknow," a police officer said.
At Pandey's clinic, the bespectacled Altaf Raza (22) was employed as a compounder. Lakshay Rathore, an accountant, was Pandey's neighbour. "Pandey was offered the 'chairman' job by one of Acharya's associates. He said yes, and left for Delhi with Raza and Rathore," an officer said.
Ravi Tyagi, the landlord at what became the board's second base, said: "They used to pay Rs 9,000 in rent. Little by little, they brought in printers, laptops and air-conditioners. Students would come and go."
Police said the raw paper for marksheets was sourced from Nayi Sadak. "They sourced the right paper for each marksheet. They also employed a software engineer to ensure each marksheet was in the correct format, and to set up the new website," the officer said. Solanki, a science graduate who claimed to take tuitions in Shahdara, took over Sharma's role as a scout to find students in need. Raza, listed as the 'secretary' would be on the phone, "striking deals". Baljeet, a Class X dropout, was listed as 'director'.
The owner of a gym near the Board's office said, "Raza would roam around Budhela market in his boxers. He was skinny and looked like a college kid. He approached us to bulk him up. I prescribed a protein-rich diet for him." "Solanki and Singh were tasked with handling verification agents from private companies where students who used fake certificates applied. Their role was to convince the companies that the board was legitimate. They managed to place people in the UP Police, Railways, Army and even send several students abroad through their verifications," DCP Prasad said.
But their main task was to reply to RTI queries, received by the CBSE and the education departments of Delhi and other states and redirected to their office. "They would get RTI queries and respond that they were not a fake board. Basically, the board legitimised itself through the RTI replies, and then posted many of these on its website," a senior police officer said. The CBSE said they were unaware of the existence of this board. "We have nothing to do with this. The questions must be asked to the MHRD as they are the authority," CBSE PRO Rama Sharma said.
A Delhi government official said that RTI queries received by them on the board were forwarded to "authority concerned". MHRD officials did not respond to calls and emails seeking a comment.
Red flags
In 1952, when the CBSE was reconstituted, the Delhi Board of Secondary Education was merged with it, and all educational institutions recognised by the Delhi Board became a part of the CBSE. After coming to power in 2015, Delhi CM Arvind Kejriwal announced the need for Delhi to have its own "education board". Officials said many who fell prey to BHSE's con may have believed this was Delhi's official board. It could also explain why the board was able to affiliate itself with schools in UP, Bihar, Maharashtra, Gujarat and Rajasthan. But even as it spread its veins across the country, the board had come under scanner of the Shahdara district police, after Solanki tried selling Class X certificates to a Class VIII dropout, Poonam Sharma.
"I wanted to complete my studies… I gave him Rs 4,000 for study material; instead he gave me fake marksheets. I knew it was wrong, so I filed a complaint on September 11," she said.
The board's antics also raised alarm bells in Delhi University when, in July this year, three students tried to get admission in Aurobindo College using fake marksheets. The students fled the moment questions were raised.
A DU official said they only accept boards listed under the Council of Board for School Examination in India (COBSE), and that all documents are vetted before admission. COBSE's general secretary Puran Chand said, "Membership is given only to boards established by the central and state governments." In fact, in 2010, the COBSE wrote to the UP State Council of Educational Research and Training, stating that BHSE was not recognised by the ministry.
While DU officials maintained marksheets are vetted, The Indian Express tracked down a student studying at a DU college who had procured his certificate from the fake board. Except, he wasn't aware it's fake. "I studied till Class X in a government school in Delhi. I then moved to my family home in a UP village, and joined a school there. The Class XII exam I sat for was held a little after the CBSE exam," the student told The Indian Express.
He said he "got over 80%" and took admission in DU using the marksheet and certificate.When contacted, M K Pandit, chairman of the admission committee in the 2017 academic session, said, "It is highly unlikely that a student from a board not listed by the university could get admission. However, if found, the person will be expelled and a criminal case will be registered."
With the lid blown off the scam, Delhi Police is going through the list of beneficiaries who got jobs on the basis of certificates from the board. They are also trying to ascertain the identity of 5,000 people who allegedly made passports in Lucknow using the certificates, and took up jobs in the UP Police, Railways, Post Office, Army and paramilitary.
Shahdara district police have constituted three raiding teams to conduct physical verification of schools listed with the board. A 20-person team has been sorting through countless files. "The officers are working double shifts. They have to go through more than 500 account books to understand the money trail," a senior police officer said, underlining the task ahead to find out how such a racket managed to thrive for a decade.