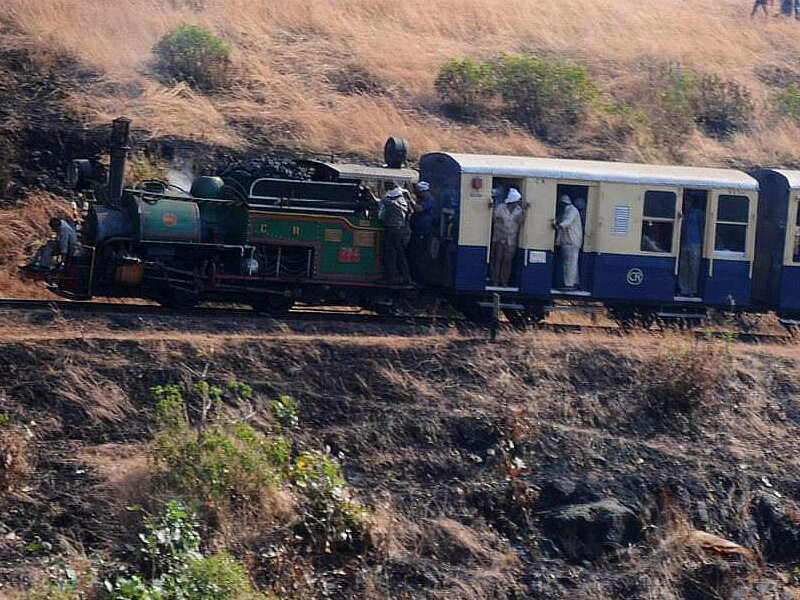 Deep Gazmer | TNN | Dec 10, 2017, DARJEELING: The toy train in Darjeeling is set to time its return to perfection and ring in Christmas and New Year in the Hills. After bearing the brunt of the 105-day agitation for a separate state when two heritage stations — Sonada and Ghayabari — were torched, the Darjeeling Himalayan Railway that enjoys the Unesco World Heritage status will chug back to full-fledged operations from New Jalpaiguri to Darjeeling. The return of the toy train on the tracks along the entire route symbolises a return to normalcy in the Hills and sends out a green signal to tourists.
After the strike was withdrawn, trial runs were conducted in the foothills of Sukna. Last month, the steam joyride between Darjeeling and Ghoom had commenced. Now, the mini diesel locomotives will operate up and down the entire stretch from NJP to Darjeeling.
"We have started services in two sections: Siliguri to Rongtong and Darjeeling to Ghoom. Technical and maintenance work on the route is still in progress. Once that is done, full-fledged operations from NJP to Darjeeling will resume," said M K Narzary, the DHR director.
He, though, did not wish to comment on the challenges in DHR retaining the World Heritage status after significant damage was caused to the two stations during the recent agitation. Nor did he wish to discuss the lack of viability in operating the services when commute has entirely shifted to the roads.
Tour operators welcomed the complete resumption of the DHR services saying it would instil confidence among tourists who have chosen to away out of fear. "Tourists need to be confident that things are okay when they visit a place. The DHR is an important part of the Hills and it resuming services will bring in visitors," said Subash Pradhan, who operates a travel company in Darjeeling town.
Though its been nearly two and a half months since the strike was lifted, tourists are yet to make a comeback. Hotels that usually attract more than descent bookings during Christmas and New Year are still struggling with poor occupancy. The Gorkhaland Territorial Administration and the state have jointly announced a five-day tourism festival from December 27 to revive interest and kick off 2018 on a high note.