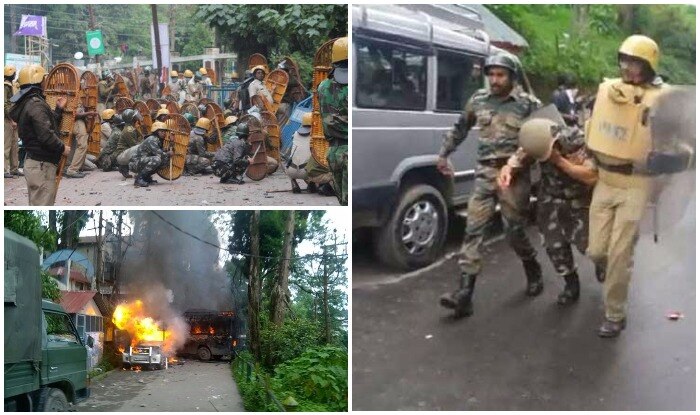 Editorial EOI: The second round of meeting of Chief Minister Mamata Banerjee with the representatives of the hill parties at Siliguri on Tuesday (12 September 2017) brought into sharp relief two facets of the situation prevailing in the Darjeeling Hills. The first is that GJM supremo Bimal Gurung's isolation within his own party is increasing. Two legislators supposed to be loyal to him, attended Tuesday's meeting. The second is that the common people of the hills are getting fast disillusioned about Gurung's leadership. They want to go back to their normal life, return to their avocations which give them their daily bread. They want an early end to the three-month-old bandh. With Gurung's assent if possible, without it if necessary.
Indeed, so untenable has become Gurung's position that he has made an utterly laughable claim that it was not he but Benoy Tamang who had called the indefinite bandh much against Gurung's will. Such diversionary tactic will not work. Other political parties of the hills also want restoration of normal life. Taken all in all, the meeting ended on a positive note and it was decided to hold the next meeting after the Pujas on October 16.
Mamata had earlier announced that the Gorkhaland demand would not be discussed in the meeting. It was not. Some parties wanted a tri-partite meting involving the Centre should be arranged. Mamata clarified that the provision for such a meeting was there in the GTA Act. Now that the elected GTA body has been dissolved and a caretaker is running the body, she would have to find out whether there is any scope of a tripartite meeting within the ambit of the GTA Act.
The main contentious point is the demand for separation, for creation of a separate Gorkhaland State carving it out of West Bengal.. The Chief Minister has given an unambiguous message that the demand for separation will not be conceded. The tempo of development in the hills will be accelerated, more funds will be provided, but there is no question of Darjeeling's separation from the parent State.
The present round of discussions should aim at reaching a consensus of all stakeholders including the GJM and other hill parties on permanently giving up the demand for separation.
Unless this agreement is reached, there will always be the scope of an ambitious hill leader appearing on the scene again and reviving the Gorkhaland demand. This issue should be buried once for all.