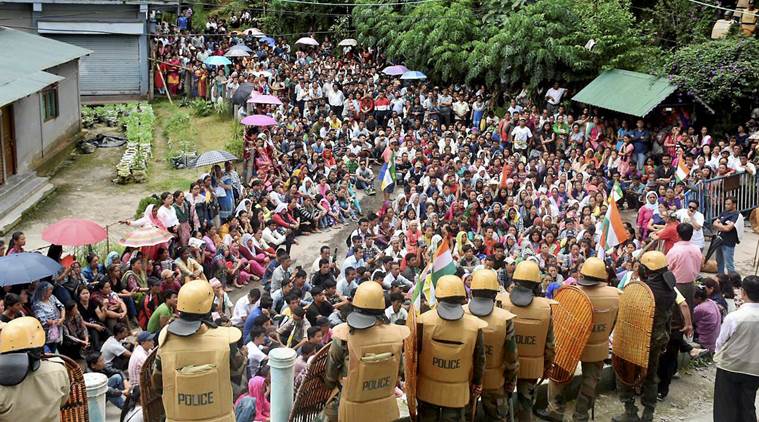 Ravik Bhattacharya | IE | Kolkata | August 11, 2017 : With the Centre yet to respond to Gorkha Janmukti Morcha's (GJM) demand for a separate state of Gorkhakand and the indefinite bandh in the Hills entering the 57th day on Thursday, the GJM has decided to take its agitation to the plains. It has also decided to send delegations to Northeastern states, many of which, are sympathetic to the Gorkhaland cause.
In an official release on Thursday, GJM general secretary Roshan Giri said that Chief Minister Mamata Banerjee's statement in the state Assembly — calling for talks on the issue — was an eyewash since no formal communication has reached them and police and administration continued to commit atrocities in the Hills. With the GJM trying to spread the agitation in the Terai and Dooars areas (part of the proposed Gorkhaland) of the plains, a confrontation with tribal bodies and the Trinamool Congress is likely.
From August 9 to 15, GJM planned to take out 'Tiranga Yatra' not only in the Hills but also in Terai and Dooars. Rallies will also be undertaken along National Highway 10 — the only and vital link to Sikkim. Recently, there have been reports of vehicles plying along NH-10 being ransacked. The Sikkim chief minister has already supported Gorkhaland, much to the discomfort of the Bengal government, which raised the issue with Union Home Minister Rajnath Singh.
GJM chief Bimal Gurung has also called on the tribals, who form a sizable population in Terai and Dooars, to support the movement. He has assured that 6th Schedule status will be granted to the tribals to protect their culture and lifestyle. At present, 6th Schedule status refers to powers enjoyed by the autonomous district councils of Assam, Meghalaya, Mizoram and Tripura.
However, in 2015, tribal bodies had opposed the idea. Now, too, they are refusing to be a part of the agitation. "We will neither be a part of the agitation nor will allow it in Tera and Dooars, which is our land. For ages, we have been residing with Gorkhas in these areas. But if they come down to the plains and try to create problems, we will give them a befitting reply. We are watching," said Birsa Tirkey, state president of Akhil Bhartiya Adivasi Bikas Parishad.
Trinamool too has been holding rallies in the plains for the last three days. "We will not allow GJM to disturb peace in the plains. Their agitation is undemocratic," said Tourism Minister Gautam Deb.
Amid all this, GJM's move to send representatives to the Northeast is expected to further create pressure on the Centre as most of the states in the region favour Gorkhaland. "Delegations are being sent to Delhi as well as to the Northeast states. Our teams will meet MPs, chief ministers and leaders of the seven Northeast states. We will explain to them our demand and seek their support," said GJM assistant general secretary Binay Tamang.