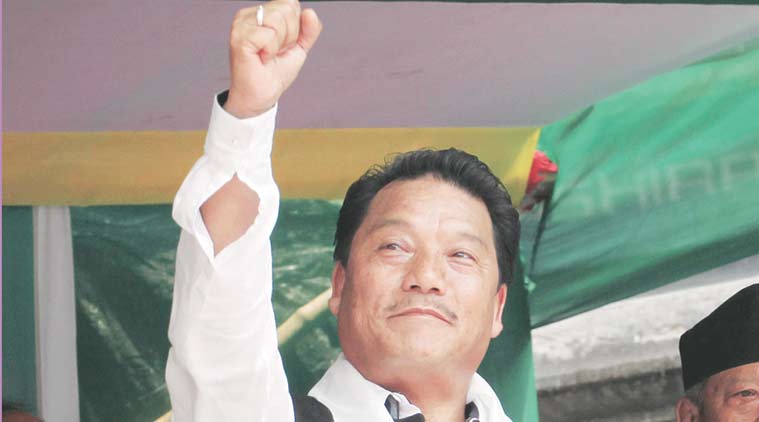 Jayanta Gupta & Deep Gazmer | TNN | Aug 8, 2017, DARJEELING: Barely days after chief minister Mamata Banerjee met Adivasi leaders from the Dooars and Terai in north Bengal, Gorkha Janmukti Morcha (GJM) president Bimal Gurung reached out to the community on Monday and even promised an autonomous council under Schedule 6 of the Constitution if the Centre grants a separate state of Gorkhaland. At the same time, Gurung maintained the agitation in the Hills would intensify from August 9 as the Centre hasn't yet made its stand clear on the statehood issue. Incidentally, August 9 is also celebrated as Adivasi Diwas across the country.
shall intensify our agitation from August 9. We shall take forward this agitation democratically but it will get extended to the plains as well," Gurung said during the day.
Technically, the Adivasis in the Dooars and Terai form a buffer between people in the Hills and those in the plains in north Bengal. Both Mamata and Gurung have realised the future of the movement in the Hills lies — at least partially — on the stand the Adivasis take. After all, the majority of the tea gardens' workforce is Adivasi. Claiming that the demarcated area of Gorkhaland starts from the Sunkosh River in the Dooars, Gurung appealed to the predominant Adivasi population there to support the movement for a separate state. Autonomous councils like the Bodoland Territorial Administration under Schedule 6 of the Constitution are only allowed in tribal-dominated areas in some of the northeastern states in the country.
Unlike in Bodoland though, there are people from several tribes in the Dooars and Terai. Over the last few years, even the BJP has been attempting to woo the Adivasi population in this north Bengal region.
"The Adivasi population in the Dooars and Terai has also been deprived, dominated and suppressed by the state government just as the Gorkhas. If the Centre decides in favour of Gorkhaland, we assure an autonomous council for the Adivasis under the Independent Tribal Development Project under Schedule 6 of the Constitution. We shall also ensure their language, literature and culture are preserved and developed. We shall also work towards development of the tea gardens and give priority to those that are ailing or closed down. We shall try to reopen the closed gardens in whatever way possible," Gurung said.