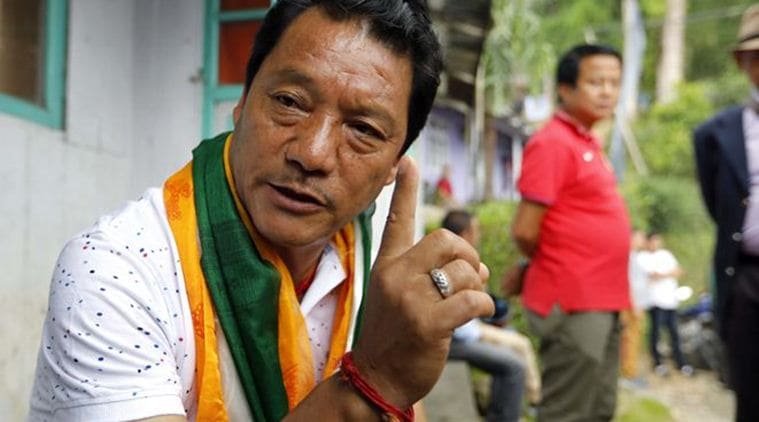 ENS, | Kolkata | July 4, 2017 : WEST BENGAL Commission for Protection of Child Rights (WBCPCR) on Monday served a notice to Gorkha Janmukti Morcha (GJM) president Bimal Gurung for "using children for political processions". Gurung has been asked to appear before the child rights body on July 11.
"The commission had already served a showcause notice to the GJM for using children in a political rally on June 29. The party is yet to respond to it. They again repeated the act today (Monday). Using children and minors with a political motive is dangerous and a complete violation of child rights," read the notice.
The WBCPCR functions as a civil court and can send suo moto notice. WBCPCR Chairperson Ananya Chatterjee Chakraborty said: "The notice has been served because it is against the law to use children in political processions, especially on a school day, which it was today (Monday). First of all, there is a Calcutta High Court order, which bans using children in political processions, it is a violation of this order."
Two other laws — the Right to Education (RTE) Act and the Juvenile Justice (JJ) Act —have also been violated, said Chakraborty. "The children should be in schools and not on the streets. The procession violates the RTE Act. There has been a lot of violence in the Hills because of the agitations. The JJ Act says that children must be kept safe and away from danger. So it is in violation of this act as well," she added.
Schools in Darjeeling have been shut during the past few weeks and boarding schools have extended their holidays till July 6 in view of the fourth all-party meeting on Monday.
(Source & Courtesy: http://indianexpress.com/article/india/wbcpcr-sends-notice-to-gurung-for-using-children-for-political-processions-4734086/ )