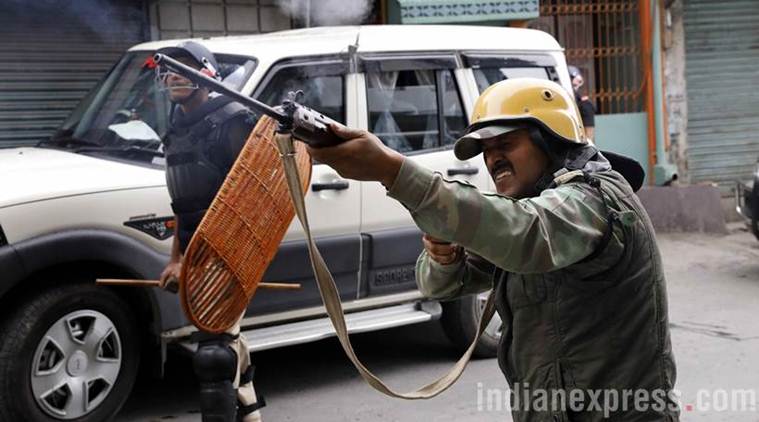 Deep Gazmer| TNN | Jul 12, 2017, Mirik: The Gorkhaland Movement Coordination Committee (GMCC) has decided to step up its agitation for a separate state and raise the pitch of its protests against "police atrocities" by resorting to an indefinite hunger strike from July 15. The pro-statehood protestors will also continue laying siege to government offices in the Hills, Dooars and Siliguri.
Miscreants torched the office of the Gorkhaland Territorial Administration (GTA) youth hostel at Dr Zakir Hussain Road in Darjeeling, early in the morning on Tuesday to keep up the pressure on the GMCC leaders. Tension reached a new high after one of the injured allegedly in police firing, Asoke Tamang (36), succumbed to his injuries at Sikkim-Manipal Hospital at 7.30 am. GMCC has demanded a CBI inquiry into the killings.
The GMCC in its meeting on Tuesday did not announce any partial or complete relaxation in the ongoing indefinite shutdown in the Hills attributing it to the "sentiments" of the people of the Hills who want the strike to continue.
"We convened an emergency meeting to pay homage to the martyrs and protest the police atrocities. On July 14, our supporters will lay siege to all government establishments including district magistrate's office, SDO's office, police stations and other establishments. This will not be limited to the Hills only. Our supporters in Siliguri and Dooars will do the same," said Binay Tamang, assistant general secretary of the Gorkha Janmukti Morcha after the conclusion of the meeting that continued for over four hours in Mirik, around 50 kilometres from Darjeeling.
At least one representative from all the parties in the co-ordination committee will participate in the indefinite fast which will commence on July 15 in Darjeeling's Chowkbazar. The coordination committee now consists of 14 entities with Nationalist Congress Party being the latest entrant. "We will go on a fast unto death from July 15," said Tamang attracting applause from 500 odd supporters who assembled at Mirik's youth hostel amidst heavy police bandobast.
In the coming days committee members intend to reach out to other political parties and the President to highlight the police atrocities. "We have decided to make a summary of the police atrocities and the administration's high handedness in the past one month. Now we plan to send it to the President, the governor of West Bengal and governor of Sikkim," said Tamang.
The pro-Gorkhaland leaders also drew parallel with Basirhat in North 24 Parganas. "Not a single bullet has been fired at the mobs there but police have killed seven people in firing here. CM Mamata Banerjee is demanding central forces but the same eagerness is missing in Basirhat," said Kedar Dewan, convener of the co-ordination committee.