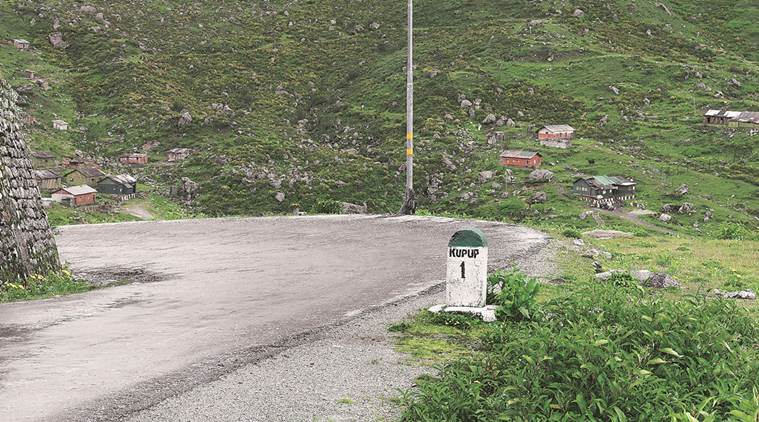 On way to Kupup. Partha Paul
Esha Roy | Kupup (sikkim) | ENS | July 25, 2017: Just over 60 km east of Gangtok and 13,025 feet above sea level, lies the hamlet of Kupup. With a population of about 550, Kupup stands close to the trijunction, tucked in between the mountains of the eastern Himalayas where India, China and Bhutan meet.
South of Kupup lies the popular Elephant Lake, its tail pointing towards the village and its tapering trunk towards the Dolam plateau, barely 5 km in a straight line on the other side of the rain-drenched hills. Located near Nathula at 14,400 feet, this 89 sq-km pasture land, to which Bhutanese shepherds take their yaks for grazing, has been at the centre of a standoff between Indian and Chinese troops for more than a month now.
But for the people of Kupup, a 1.5 sq-km patch, the India-China tension is not of paramount importance, it's the Gorkhaland agitation and the frequent landslides that's disrupting their lives. As for China, they say, it's business as usual. "We go to Rinchengang, 9 km ahead of Nathula in Tibet, where we trade with the Chinese. The market is open from Monday to Thursday, from 10 am to 4 pm. We are still going. The trading hasn't stopped,'' says Chunzey Bhutia, 38, who owns and runs a small shop with her brother, a registered trader permitted to trade with the Chinese.
While Bhutia's family lives in Gangtok to "ensure a good education" for her children, the only government school in Kupup shut in 2005 without enough students , she travels to Sikkim's capital every month, ferrying Chinese goods. Her shop stores stacks of Chinese blankets, shoes, umbrellas, jackets and other goods. "The blankets are the most popular,'' says Bhutia.
Kupup residents say this informal trade between India and China operates for seven months every year ? between May and November, when heavy snowfall brings the shutters down. There are five families who trade with the Chinese. Most others in the village work as labourers with the Border Roads Organisation. "The road to Kupup is being widened. The roads are constantly getting either repaired or widened,'' says a resident.
In this cluster of far-flung villages . Kupup, Gnangthang, Lungthung, Zuluk , road construction and repair is the main source of employment. With heavy rains and soft soil, landslides are common, and a road worker makes Rs 440 a day for an eight-hour shift. These days, the shortest route to Kupup from Gangtok via Changu lake is closed as a part of the highway has caved in after a landslide. It's the longer route that remains open.
A stone's throw from Bhutia's shop is another, run by Dola Sherpa. Sherpa, 51, says the landslides have slowed trade, with less goods coming from Gangtok. "Most of the traders belong to Gangtok, and it's not easy to get here now,'' he says.
"It is also difficult to make phone calls. The government recently set up a cell phone tower here, but it's restricted. Only 30 people can make calls, and they belong to the Army. We can't. We get reception intermittently,'' says Sherpa Business has been hit, he says, not by the border tension with China but the Gorkhaland agitation in Darjeeling that has shut down the region for over a month. "The tourists have stopped coming. The shop's clientele now mostly comprises Army jawans," says Sherpa.
However, despite the claims in Kupup that trade between the two countries continues unabated, the general secretary of the Indo-China Border Trade Association Rajesh Rai says the Chinese have halted business in the last two weeks. "They (the Chinese) told us it's because their road drainage system,'' he says.
"There are 1,000 registered Indians who trade with China. But in reality, there are around 250 active traders. These traders mostly belong to Gangtok, and a handful to the surrounding villages here. We have a border haat (market) at Sherathang on the Indian side where Chinese traders come… the Indian traders go to Rinchengang in Tibet. The Chinese goods are taken to Gangtok, our goods are taken to Lhasa," he says.
"We don't want the trade to be formalised as most of the traders are small-time, especially from the villages. If big players enter, these people will lose their income,'' says Rai.
The trade occurs in Chinese currency, he says, and the "going rate" is Rs 9.3 per Yuan. India's exports to China is more than its imports in this region, with traders selling rice, flour, wheat, Dalda, sugar, biscuits and matches to small-time Chinese businessmen. Rice is the most popular item for the Chinese, so much so that prices have risen steadily, from Rs 900 for 25 kg several years ago to Rs 2,200 now. "We don't have any border haats with Bhutan,'' says Rai.
Unlike India's other international borders, the relationship between people in the villages between India, China and Bhutan is almost unemotional, with little connect. Bhutia says there is no interaction with neighbouring Bhutanese villages, and with the Chinese it's one of trade. "The language is different. And so is the culture,'' she says.
A 32-km descent from Kupup leads to Zuluk, at 9,400 feet. Here, 51-year-old Gopal Pradhan's wife, who died earlier this year, was the gram panchayat head. Pradhan's daughter is married to a Bhutanese national. "There is a point on the hill from where I can see her in-laws' village,'' says Pradhan.
But marriages between Bhutanese and Indian nationals are rare, and virtually none between Indians and Chinese, says Pradhan. With barely 85 homes and a population of 326, tourism is the main source of income at Zuluk, with as many as 32 homestays.
"People laughed at me when I started (the first homestay in 2008). They couldn't imagine that tourism could be a viable income. There is a high rate of unemployment here, but with these homestays, everyone has a good income,'' says Pradhan.
Like Sherpa, Pradhan says it is the Gorkhaland agitation and not the India-China tension which has hit the village. "We haven't got any tourists this season. I had to make a number of cancellations. Let's see what happens in October, our next tourist season,'' he says.
"This was a part of the Silk Route, till the time Tibet was a separate country. The Silk Route began from Kalimpong and ended in Lhasa. My father would carry kerosene oil, HMT watches, food and spare parts to Lhasa, and bring back silk thread. He would trek for 25 days to get to Lhasa and would be paid 75 paise a day for it,'' he says.
In Kupup, Bhutia points to the hazy outline of a structure on a hilltop in the distance. It's a Chinese watchtower, she says. "I keep hearing reports of this so-called tension when I get calls from relatives or friends in Gangtok
Sometimes they get alarmed, as if there are bombs dropping on Kupup. As you can see, there is nothing of the sort here," says Bhutia. (Source & Courtesy: http://indianexpress.com/article/india/india-china-bhutan-border-standoff-kupup-sikkim-4765776/)