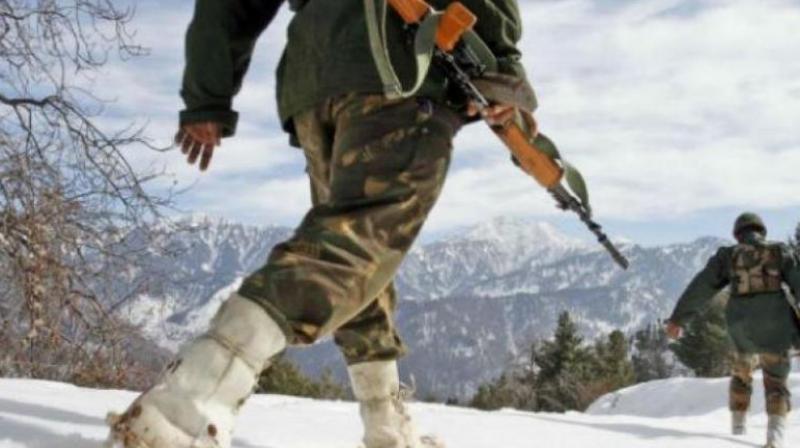 Charu Sudan Kasturi, TT, New Delhi, July 10: The continuing standoff between India and China at their tri-junction with Bhutan may mark the clearest signal yet of an increasingly tense tussle over a broader, shared neighbourhood that wants competition between them but not conflict, senior officials and experts have suggested.
India has officially cited its 2007 agreement with Bhutan and the special relationship it enjoys with the tiny nation to justify asking its troops to help block Chinese attempts at building a road in territory disputed between Beijing and Thimphu.
Two senior Indian officials familiar with the Narendra Modi government's thinking said New Delhi wanted to send out a broader message to the region that it is willing to stand by partners who view their sovereignty as threatened by China.
That's a message India is trying to reinforce this week through the largest-ever Malabar naval exercises involving the US and Japan off the coast of Chennai. None of the three nations hides their hopes of using the exercises as a means to deepen their maritime cooperation, which they view as key to maintaining a balance of power in the Asia Pacific - where China is locked in sovereignty disputes with multiple nations.
Last week, Vietnam - one of the countries battling China over a swathe of sea both claim - extended by two years a lease for India's Oil and Natural Gas Corporation (ONGC) to continue exploration in a South China Sea block. Indian officials have repeatedly hinted that they do not expect to find oil at the location, Block 128, but the presence of Indian rigs is expected to serve as a deterrent against any Chinese aggression.
But the same neighbourhood that benefits from managed competition between India and China will not want conflicts over them, some experts have cautioned.
"Countries in the overlapping periphery would not welcome an India-China conflict or a heightened Cold War," said Zorawar Daulet Singh, a fellow at New Delhi's Centre for Policy Research. "India has privileged relations with many South Asian countries, but to sustain this friendly periphery, it needs creative statecraft that can also accommodate Chinese interests while upholding India's core concerns."
Competition for influence in their shared neighbourhood, especially South Asia, is not new for India and China. That tussle has increased significantly over the past decade, and China's use of its economic muscle in Bangladesh, Nepal, Sri Lanka and the Maldives, coupled with its "all-weather" partnership with Pakistan, has worried India.
Nor are India and China alien to border crises of varying scales - their troops routinely transgress each other's understanding of the unsettled Line of Actual Control (LAC). But in each of those instances, border management mechanisms and the mutual understanding of differing perceptions of the LAC meant troops from the two countries eventually withdrew to positions acceptable to both.
The face-off near the India-China-Bhutan tri-junction is different because of the rigid, diametrically opposite postures adopted by New Delhi and Beijing - which make a climbdown by either that much harder.
China has insisted that Indian troops have breached its sovereignty by crossing a part of their border - between Sikkim and Tibet - that was settled by the British through an 1890 agreement with China.
India, which stayed quiet for days after China first levelled these allegations, initially argued that it was in a zone disputed between Bhutan and China. Its troops were present there at the request of Bhutan, the foreign office said. The 2007 treaty between India and Bhutan states that they will "cooperate closely with each other on issues relating to their national interests".
But officials have since also questioned China's assertion that the border between Sikkim and Tibet is settled. All that India has agreed to, they have said, is the "watershed principle" - a line joining the highest ridge-tops of mountains - laid down in the 1890 agreement as the basis for the demarcation of the Sikkim-Tibet border.
Still, the 1890 agreement - signed by Britain and China - also refers to the border as a line that "commences at Mount Gipmochi on the Bhutan frontier, and follows the above-mentioned water-parting to the point where it meets Nipal (Nepal) territory." This is the "line" that China is insisting India and Bhutan abide by - New Delhi as the successor of British India.
India has argued that cartographical errors then allowed the Chinese to foist the detailed "line" mentioned in the treaty - and that a correct measurement of the highest ridge points would take the border, and the tri-junction with Bhutan, further north. That isn't a new argument from India, officials here have insisted, and China has accepted that New Delhi and Beijing will settle the local of "tri-junctions" with other countries in consultation with those nations. The bickering, seemingly over spots on maps from over a century back, is not unlike the disputes China is facing against Vietnam, the Philippines, Japan, South Korea and Brunei in the South and East China Seas. India, by refusing to back down, is sending a message to China and to the broader region, the official said.
But an escalation of that India-China competition into a proxy-conflict may not suit neighbours which, while keen on close ties with New Delhi, also count on Beijing, particularly as an economic partner.
"Nepal cannot afford to have ill-will with India, but we would similarly like to have the best of best relations with China," Nepal's then deputy Prime Minister and foreign minister Kamal Thapa had told this newspaper in March last year, just before landlocked Nepal inked a pact with China to end India's monopoly over its access to sea routes. "For the development and economic growth of Nepal, it is important for us to take advantage of the economic progress of both its neighbours."
Informally and at times publicly, officials from Sri Lanka and Bangladesh have also stressed their desire for space to engage with both India and China.