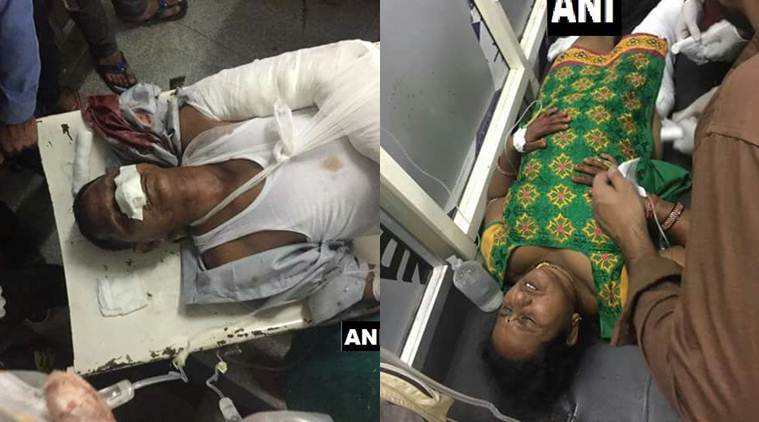 TT, PTI, Srinagar, July 10:

Militants ambushed a bus carrying Amarnath pilgrims late this evening, killing six women and a man and injuring 32, at a time the government has deployed 25,000 additional troops for the pilgrimage because of the continuing tensions in the Valley.
A police spokesperson said the bus from Gujarat was not part of the Amarnath Yatra convoy and therefore enjoyed no security, and had violated the safe-hour deadline.
The suggestion was that the occupants of the bus had not registered themselves with the Shri Amarnathji Shrine Board.
The official yatris (pilgrims) move in convoys, escorted by security vehicles from Jammu to the twin base camps of Baltal and Pahalgam. The entire route is heavily guarded.
Pilgrimage rules ban Yatra vehicles from the highways after 7pm as the security cover is withdrawn at that hour. Police and government officials said the bus was attacked at 8.20pm in south Kashmir's Anantnag district, at a spot about 50km from Srinagar.
Although the bus lacked security, it was ambushed only about 100 metres from the headquarters of 1 Rashtriya Rifles.
This is the biggest militant attack on Amarnath pilgrims after the insurgents killed 30 yatris in Pahalgam in the year 2000. Sources said many of those injured in today's assault were critical.
A jittery Mehbooba Mufti government has suspended Internet connectivity in the Valley to prevent the spread of rumours.
Officials said the bus was on its way to Jammu from the Baltal base camp in Ganderbal, central Kashmir, when it came under attack at Botengo village. "The attack took place right on the highway. The militants fired indiscriminately but briefly before melting into the alleyways of the village nearby," a police officer said.
The police spokesperson said the militants had first targeted a bullet-proof police vehicle in the area but the fire was returned.
"There was no report of injuries. The terrorists then fired on a police naka (post). The fire was returned again."
Some reports said the militants targeted the bus while fleeing from the police.
Security had been tightened for this year's Yatra because of the five-month turmoil that followed Hizb commander Burhan Wani's killing last July and its continuing aftershocks. The Jammu leg of the Yatra was suspended on July 8, Burhan's death anniversary.
Over 1.34 lakh pilgrims have so far visited the Amarnath cave, located at an altitude of 3,888 metres in the south Kashmir Himalayas, this year.
Prime Minister Narendra Modi was quick to tweet on the attack, sympathising with the bereaved families and saying: "India will never get bogged down by such cowardly attacks & the evil designs of hate."
Chief minister Mamata Banerjee tweeted: "Strongly condemn the attack on Amarnath yatris and the police. Terrorism unacceptable anywhere in the world."