Vivek Chhetri and Rajeev Ravidas, TT, Darjeeling, June 15: Uncertainty gripped the hills today as the Gorkha Janmukti Morcha announced an indefinite general strike and suspected party supporters vandalised and set fire to government property within hours of the police raid on Bimal Gurung's office.
The raid on the office at Patlabas, around 5km from the Mall in Darjeeling, started around 8.45am.
Around 10.30am, Morcha assistant general secretary Binay Tamang issued a statement calling for an indefinite general strike in the hills. Only emergency services like hospitals would be exempted from the purview of the strike.
What followed was chaos and uncertainty - parents scurried to schools to get their wards, people hurried for last-moment shopping even as shopkeepers were busy downing their shutters and travellers looked frantically for vehicles, whose operators were more interested in returning home.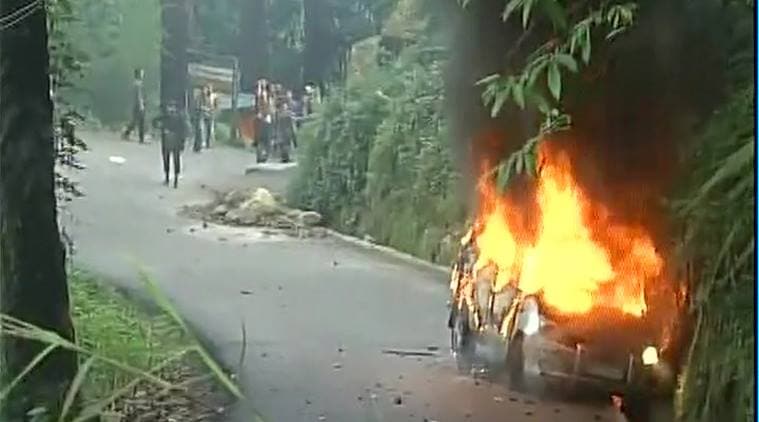 The violence far and fast spread to other towns.
In Kalimpong, suspected Morcha supporters set ablaze two government buildings, including a police check-post. Six persons were arrested in connection with the arson attacks.
The first incident of arson was reported from Pedong, where suspected Morcha supporters torched the police check-post around 11am. Another group set fire to a silk-rearing house belonging to the sericulture department at Barbot, 3km from the town, around 12:30pm.
Around the same time, the police foiled an attempt to torch a government lodge near Kalimpong town.
Ajit Singh Yadav, the Kalimpong SP, said: "Raids are still on, and more arrests are likely."
In Darjeeling, the car of Morcha chief was also set ablaze allegedly by suspected Trinamul workers.
The vehicle of Asha Gurung, the Morcha president's wife, was also set on fire along with the one belonging to their son Avinash.