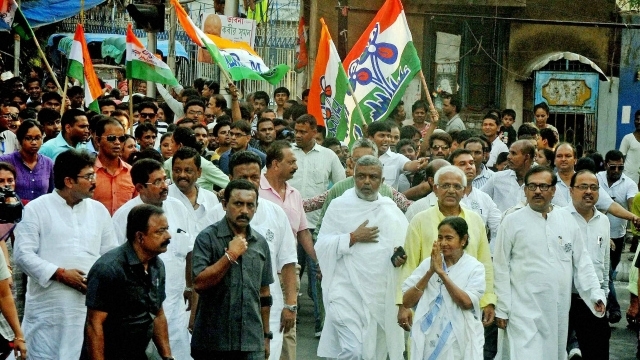 TT, Siliguri, June 26: Resumption of the agitation over the demand of separate statehood by the Gorkha Janmukti Morcha has made it tough for Trinamul to continue its activities in the hills, courtesy the firm anti-Gorkhaland stand of party supremo and chief minister Mamata Banerjee
The party is so focusing on the plains now and trying to garner support by using the same agenda.
Trinamul insiders in Darjeeling district, while speaking on the issue today, said they had taken up the task of campaigning across the plains, particularly in Siliguri subdivision, by mentioning time and again that the party and the state government were against further division of Bengal.
"The recent statements of the BJP's national and state leaders regarding the Morcha's statehood demand and the ongoing movement have made it clear that there is confusion within the party. We want to apprise people that the BJP is not clear about the issue and the party is playing politics," a senior leader of Trinamul in Siliguri said.
"Left Front leaders here have already expressed solidarity with the Morcha's ongoing movement. They have demanded a judicial inquiry into the present unrest in the hills and are sending a delegation to Darjeeling on July1 to sympathies with the agitators. This is something which has not gone down well with a large section of Siliguri residents. We also highlight this during our campaign," the leader said.
A well placed source in Trinamul said recently, a group of hill Trinamul leaders met Aroop Biswas, the state minister for PWD, sports and youth affairs, as well as the observer of the party's Darjeeling district unit. He told them instead of organising any major political programme in the hills, small rallies or meetings should be organised in the foothills against the Morcha.
But they should highlight the chief minister's relentless effort for developing the hills, despite the constant opposition of Morcha.
"The chief minister frequently visits the hills and every time, she delivered a bouquet of development projects for the hill residents, where we are not considered a major political party. But in the plains, the scene is completely different because it will be easier for us to convince them by the chief minister's recent decisions regarding Darjeeling," he said.
"We are keeping in touch with the state leadership and eagerly waiting for the chief minister's decision regarding the ongoing movement of the Morcha as she will join her office on Tuesday after returning from the Netherlands and it is expected that she will make some announcements," he said.
Trinamul's decision comes at a time when residents of Siliguri and surrounding areas proved their staunch stance against Gorkhaland. Yesterday, they had held a rally in the city, protesting the demand of separate statehood and seeking peace in the region.