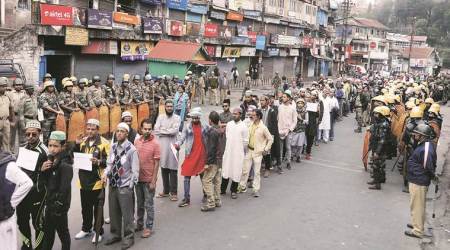 Jayanta Gupta & Deep Gazmer, TNN, Jun 22, 2017, Darjeeling: The Gorkha Janmukti Morcha is coming under increasing pressure, from within and outside, to take a "more flexible view" on its indefinite bandh and go in for some sort of "relaxation" before Eid, which com-es up next week.
The biggest worry for the Hills is the fast-depleting food stock. Refusal by ambulance operators to carry patients to Siliguri, because of "harassment" from bandh supporters, marked an imm-ediate flash point on Wednesday. And the outside pressure came in the form of a Beng
al government warning to gov-ernment employees about a possible "repercussion in the month-end salary slip" for not attending office.
The GJM, in a tacit admission that a prolonged bandh might inconvenience its core support base more than the government, sent a delegation to Gangtok on Wednesday to meet Union minister of state for home Kiren Rijiju, urging central intervention.
Wednesday's immediate pressure point was the ambulance operators' refusal to ferry patients. Drivers complained picketers were insisting on checking hospital documents and patients' luggage and even food items.
"They (picketers) check luggage, inspect vehicle documents and intimidate us if we carry a few food items. They don't understand that every minute matters when it comes to patients requiring emergency attention. We appeal to the protesters to stop harassing us," ambulance driver Yogen Rai said. Rai had a patient to ferry to Siliguri but was worried about the "check points" in Kurseong and Sonada.
The district hospital in Darjeeling has only two ambulances to cater to the huge number of patients who are more often than not referred to the North Bengal Medical College and Hospital in Siliguri.
This forces patients to depend on private vehicles, which double​ up as ambulances ​for fares ​between Rs 2,200 and Rs 2,500. There are ​also 11 ambulances that operate privately in Darjeeling​. Now, private vehicle​ operator​s​, too,​ have threate​ne​d to suspend services if the bandh supporters don't provide​them "permits"​ that will give them the right of way.
"The constant threat​s​ and harassment​ have ​left us with ​no other option but to ​suspend services from Thursday​. ​We will start services​ only ​if we are provided permits by the bandh enforcers as our​ and patients' ​lives are at risk," said Binod Chhetri, another ambulance driver​.
The bandh has also​ started ​pinch​ing​ homemakers. Ration from the plains haven't been reaching the Hills for more than a week.
"I could send 15 days' stock to the Hills before June 9​ but this ​is ​going to last for another​ couple of days​," food minister Jyotipriya Mullick​ said. "I don't know what is going to happen​ after that​. I am trying to speak to every​one​ but the GJM is not ready to negotiate even on this essential issue," ​he lamented.
​​But a​ crackdown is expected soon from several government agencies, including the food supplies department​, that has alleged that the GJM might be diverting essential supplies to undisclosed locations denying​ H​ill​s​ residents of their ​share. "We have identified two traders from Paltewas and Siliguri who​ have ​redirected almost 10 trucks of essentials to undisclosed locations believed to be GJM strongholds. We have sent a detailed report to Nabanna in this regard," claimed a​senior official.
Things have​ started becoming tricky for even state government employees who are better placed than villagers and tea garden workers.​ GJM general secretary Roshan Giri​, while ​calling for the indefinite bandh, had ​announced relaxation​ ​on ​two days​, June 27 and 28, ​to let them draw their salaries.​But that window has closed​. And the state government​has said it ​is preparing a list of officials who​ have ​not turn​ed​ up ​for work.
"We are keeping track of attendance.​There may have been pressing issues on certain days​ but​ no one can get away by not attending office​ every day. This​may be reflected in​ the salary slip," a senior official​ said ​in Kolkata. ( Source & Courtesy: http://timesofindia.indiatimes.com/city/kolkata/pressure-mounts-on-gjm-for-more-bandh-relaxation/articleshow/59260924.cms )