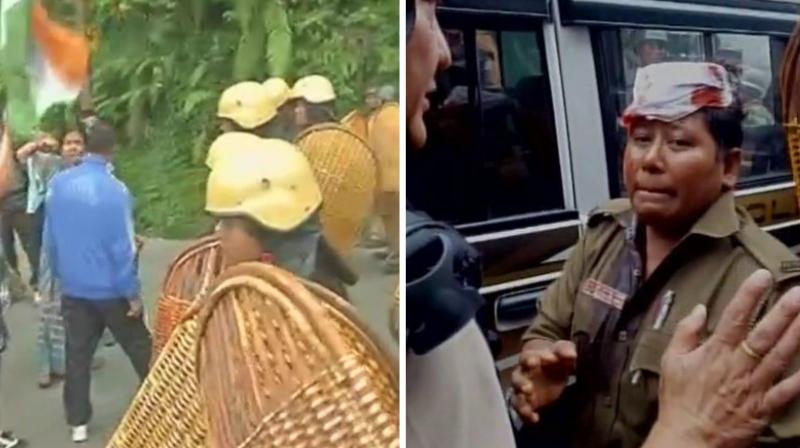 TNN

|

Jun 18, 2017,

DARJEELING: The district or

Sadar Hospital

in

Darjeeling

was probably the only place where

Gorkha Janmukti Morcha

(GJM) workers weren't fighting pitched battles with security personnel on Saturday. In fact, injured policemen and GJM workers were receiving treatment under the same roof in an establishment that has rarely witnessed so much activity.
"It's a Saturday and there were few doctors at the hospital when the trouble started. After the injured started arriving, we placed calls to all doctors and they are on their way," a senior doctor said.
Among those monitoring the situation at the hospital was Darjeeling district magistrate Joyoshi Das Gupta who insisted on checking footage in the camera of a video journalist. "Where is the delete button? See, it's written Operation Theatre here with a No Admission sign. Still you go in and film. Even an injured man deserves dignity and all you want to do is sensationalize the situation," she said.
The administration didn't seem too keen in giving out details of those injured or killed on Saturday. Details of only one of the GJM workers killed were available. Sunil Rai (23) was one of those killed in Singmari after police opened fire with 7.62 mm SLRs at a mob gone berserk.
According to Rai's uncle Aita Singh Thami, he was a driver at a construction site. "He would sometimes do odd jobs at Kainjaley, our village in Bijanbari block. He is married and has a 10-month-old daughter," he said. The other man who died at Singmari has been identified as Bimal Shashankar of Goke. "

Mukesh Gurung

of Relling died at Sonada while he was being taken to

Siliguri

," said GJM assistant general secretary Binay Tamang.
Rai and Shashankar were first taken to the military hospital in Lebong, the closest medical centre to Singmari where they were declared dead on arrival. Their bodies were then taken to the Sadar Hospital for autopsy.
One of the cops tending to an injured colleague at the hospital said: "The way the demonstrators were behaving, it seems they were under the influence of some substance. The rocks they hurled were huge. They would launch a fusillade and then duck behind the hill. My friend here was hit in the leg and he may have fractured it."
A GJM supporter Vikas, who had a cut on his arm, said that there wouldn't have been any trouble had they been allowed to proceed to Patlewas.