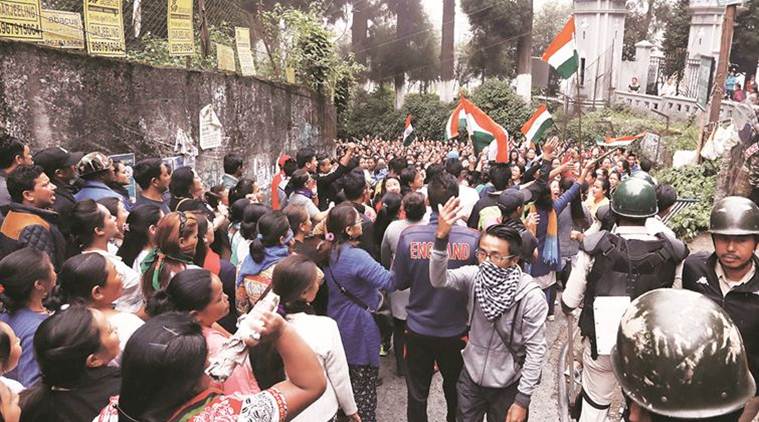 GJM supporters protest in Singmari, near Darjeeling on Saturday. Partha Paul
Ravik Bhattacharya | ENS | Darjeeling | June 18, 2017 : Hundreds of youngsters, with their faces mostly covered with wet cloth, carried stones and bottles as they dotted the Lebong Cart Road here. Agile, prepared and motivated, they confronted security forces for hours and drove them away. "We want Gorkhaland. Please write what is true. We want a separate state. What is wrong in it?" said a teenager in fluent English. "We did not start the trouble, the police did. Now they are even firing at us.''
Earlier, Gorkha Janmukti Morcha (GJM) office had become a war zone as police lathicharged a rally of the party's women wing amid a drizzle. A clash soon erupted as mostly empty alcohol bottles were lobbed at the police, who retaliated with teargas shells that made it difficult for people to breath. GJM women members, some of them injured, were seen running away and taking shelter in surrounding houses.
The youths soon took to the streets and drove away the police, some snatching lathis and shields they carried. Petrol bombs were thrown and police vehicles were set afire. The air smelt of burning fuel and rubber as the youths controlled the area.
"Do not worry. You guys will not be harmed. But we cannot help if the police fire on you. You must understand why we are doing this. We do not want violence. But we are being forced. They lathicharged on the women. We are ready for anything. We know the terrain and we can die for Gorkhaland," said another youth.
Many students and youths from business families have joined the GJM after the May 8 violence in Darjeeling. "We are not fools to leave our work, studies and do all this. When the fresh call for Gorkhaland came, we jumped in," said the youth.
The youths seemed to be well prepared, with piles of stones and bags of glass bottles placed on one side of the road. Many of them carried slings. They were agile and frequently changed positions. Some shouted abuses in Nepali and English at policemen. "We do not want trouble or violence. But we all support Gorkhaland. The police and the government should understand this is a strong sentiment here. No one here likes shutdowns and hardships. We are also scared," said the 35-year-old man.
The youths slowly went away as police arrived on the spot around two hours later after sounds of whistles and reports that the Army was marching in. ( Source & Courtesy :
http://indianexpress.com/article/india/darjeeling-gorkhaland-stir-we-want-a-separate-state-what-is-wrong-in-it-4709426/)