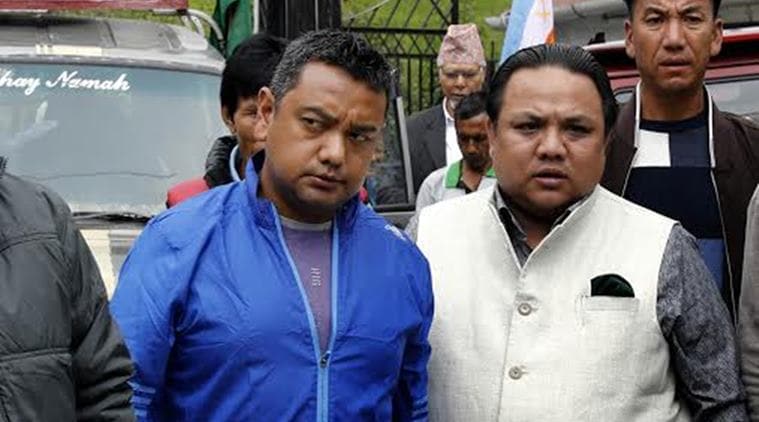 File photo Media cell in charge Vikram Rai, son of Morcha MLA Amar Rai. Morcha says VIkram was picked up last night by police . Express photo by Partha Paul
Ravik Bhattacharya | Darjeeling | June 17, 2017: Police cracked down on Gorkha Janmukti Morcha leaders continued in Darjeeling as Hills remained tense for the third continues day of indefinite bandh call. The move comes after raids on GJM chief Bimal Gurungs house in Patlaybas on Thursday and adjacent party office. This led to clashes in the area. GJM leadership claimed that police arrested Vikram Rai son of MLA GJM Amar Rai. He was picked up from his home in Darjeeling at around midnight. According to police sources, he was picked up in connection to clashes which broke out in Darjeeling on June 8, while chief minister Mamata Banerjee was holding her cabinet meeting. Vikram, a former journalist worked with various media houses.
Meanwhile, GJM leadership claimed that police raided the house of Binay Tamang, assistant general secretary of GJM, and allegedly ransacked it. "At around 3 am, my house was vandalized by police. In the same manner they ransacked the house of our party chief Bimal Gurung. There is a virtual emergency in the Hills," said Binay Tamang. The situation in hills remained tense for the third consecutive day of the GJM sponspored indefinite shutdown in the hills, as GJM supporters tried to set fire to a PWD office with police retaliating by conducting raid at the house of GJM leader Binay Tamang and "picking up" another GJM leader last night.
The police which is on high alert after yesterday's violence and arson and conducted route marches in various parts of the hills. Heavy police and central forces deployment were seen in front of the government and GTA offices and various entry exit points of the hills. Except medicine shops, all others shops, hotels were closed in Darjeeling. The Centre has despatched 600 paramilitary personnel to assist the West Bengal government in restoring normalcy in violence-hit Darjeeling hills which witnessed incidents of stone pelting during GJM-sponsored indefinite bandh. The Centre has also sought a detailed report on the prevailing situation in the hill district from the state government.