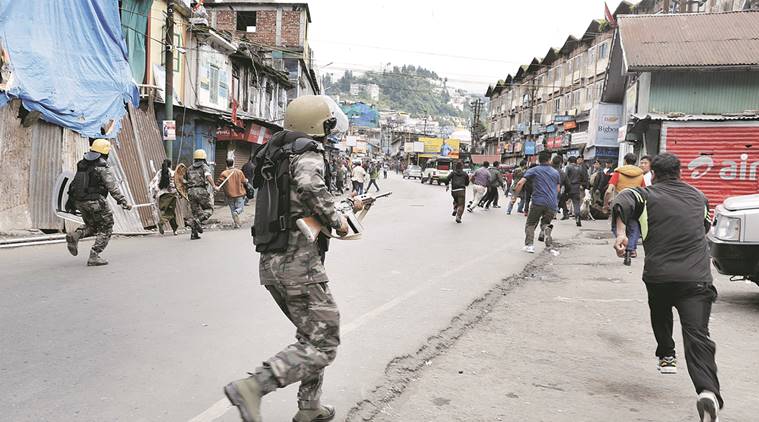 Esha Roy | ENS | Kolkata | June 20, 2017 : The president and general secretary of the Sikkim unit of the Trinamool Congress resigned from the party on Monday in the wake of police firing on protesters in Darjeeling agitating for a separate state of Gorkhaland. TMC's Sikkim general secretary Tshering Wangchuk Lepcha said he and state unit chief P T Lucksom, who is also Sikkim's former deputy CM, joined the TMC in September 2013. "For the past four years, we have been carrying out our duties as an Opposition party. We are shocked and dismayed by what has been happening in Darjeeling for the past 8-9 days. We think it was completely unnecessary for police to open fire on peaceful protesters. The people of Darjeeling are by and large peaceful," said Lepcha.
Lepcha said he sent WhatsApp messages to senior party leaders Derek O'Brien and Sudip Bandyopadhyay on Sunday to apprise them of the concerns of the party Sikkim unit, but did not receive any response.
"We have resigned on moral grounds…. Sometimes we have to take decisions on humanitarian grounds. What is happening in Darjeeling is a blatant violation of human rights and also mismanagement by the state administration. We support Gorkhaland because that is the demand of the people," said Lepcha.
Lepcha added that life in Sikkim has been affected by the recent developments in Darjeeling. A large number of students from Sikkim go to study in Darjeeling and are now stranded, he said.
He further said that the NH-10, which connects Sikkim to the rest of the country, passes through Darjeeling and has been facing intermittent blockades over the past few days. This has left tourists stranded, he said.
"We appeal to the Centre to resolve this issue immediately. We also appeal to the protesters to ensure that the movement remains peaceful," added Lepcha.
(Source & Courtesy: http://indianexpress.com/article/india/darjeeling-unrest-upset-over-police-firing-tmc-sikkim-leaders-quit-4712552/)