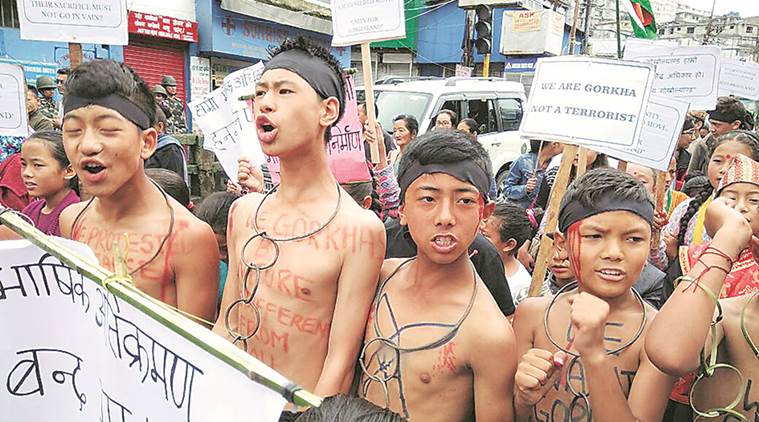 Esha Roy | ENS | Kolkata | June 29, 2017 : The Indian Army on Wednesday confirmed that it has withdrawn from Darjeeling, which entered day 15 of an indefinite shutdown. The region has witnessed violent agitations over the past two weeks.
Agitators had taken to the streets on June 9, when Chief Minister Mamata Banerjee held her first Cabinet meeting in the Hills. The state government promptly requisitioned the Army the same evening.
In a statement issued on Wednesday, the Army's Eastern Command said: "Army has been derequisitioned from Darjeeling and adjacent areas on June 24. The troops are not deployed in aid of civil administration any more."
Paramilitary forces such as the CRPF continue to patrol the area, even as things calmed down on the eve of a meeting involving all pro-Gorkhaland Hill parties on Thursday.
Several smaller rallies were taken out on Wednesday by school children, demanding a separate Gorkhaland state.
Internet down, college applications hit
Internet services continued to remain suspended, with Darjeeling DM Joyshree Dasgupta extending the ban till June 30.
In her order, Dasgupta said the "situation of emergency continues", whereby "unsubstantiated information is being circulated in some sections of the media" with the intent to inflaming emotions and "provoking the public in to violence".
The order has affected students in the Hills, who have been unable to fill in college admission forms, as the process is mostly done online.Yuden Tamang (19), from St Joseph's college in Darjeeling, is trying to apply for a Bachelors in Economics at North Bengal University in Siliguri.
"I live in Rangbull, which is 12 km outside of Darjeeling. I have had no Internet whatsoever. The admission deadline is June 30. So I walked to Darjeeling town yesterday (Tuesday), and there is this one shop which has Internet for some time during the day. So I used WhatsApp to send my details to my brother, who is in Siliguri," said Yuden.
Yuden's older brother, Yogendra Tamang, is himself applying for a Masters at North Bengal University.
"Many of my friends are facing the same problem. One of my friends went down to Siliguri today (Wednesday) to fill in the admissions form. I hope my brother has remembered to submit my form," Yuden added.
A group of young professionals in neighbouring Sikkim have set up a group — "Concerned Citizens of Sikkim" — along with a toll free number to help such students. The group works out of an empty classroom at Neil Tara Academy in central Gangtok, a private school owned by Navraj Tiwari.
"The group is set up to help Darjeeling students. Most of us belong to the education sector and know how important this process is for youngsters. Besides, they are our neighbouring state, and it is our duty to help them…" said Tiwari.
Tiwari added that the group has received dozens of requests over the past week.
"We have managed to get eight Darjeeling students admitted to colleges in Sikkim, Darjeeling, Kalimpong and Siliguri. We are facing problem in helping those who want admissions outside the state, which many students prefer, like Delhi or Mumbai. The forms are more elaborate, and you can't WhatsApp all the information," he said.
According to PTI, GJM supporters set ablaze an office of the Gorkhaland Territorial Administration (GTA), prompting the police to briefly detain two central committee members of the party.