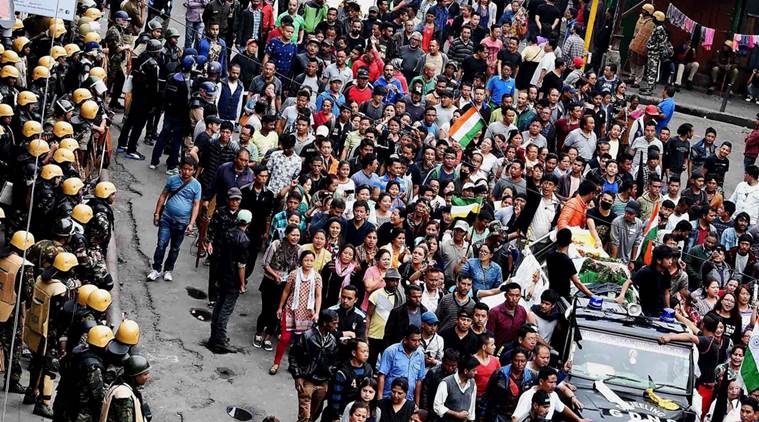 TOI, June 18, 2017, NEW DELHI: Union Home Minister on Sunday appealed to the residents of Darjeeling to remain calm and urged them not to resort to violence. The home minister's appeal came amid GJM chief Bimal Gurung's announcement that their protest will continue.
All parties and stakeholders should resolve their differences and misunderstandings through dialogue in amicable environment," Rajnath Singh said.
"In a democracy like India resorting to violence would never help in finding a solution. Every issue can be resolved through mutual dialogue," he said.
"I appeal to the people living in Darjeeling and nearby areas to remain calm and peaceful. Nobody should resort to violence," the home minister said in a series of tweets.
Rajnath Singh said he spoke to West Bengal CM

Mamata Banerjee

on Sunday morning and took stock of the

situation prevailing in Darjeeling

+

. Singh had yesterday also spoken to Banerjee and asked her to take all possible steps so that peace is restored in the picturesque hill station where people are protesting against "imposition" of Bengali in schools by making the language mandatory.
Meanwhile, GJM chief Bimal Gurung

+

has warned of more violence if the police tries to stop their protest.
"We will continue our movement, if police tries to stop us, it will create trouble," said Bimal Gurung according to news agency ANI.
Thousands of protesters assembled at the central Chowkbazar carrying the body of a GJM activist, who was killed during clashes with police, and raised slogans demanding a separate state of Gorkhaland.
Security personnel in large numbers were deployed in the hill district of West Bengal after widespread clashes between Gorkha Janmukti Morcha (GJM) activists and the police were witnessed yesterday.
The protesters, also carrying black flags and the Tricolour, assembled at the Chowkbazar. They shouted slogans demanding that the police and security personnel be "immediately removed" from Darjeeling.