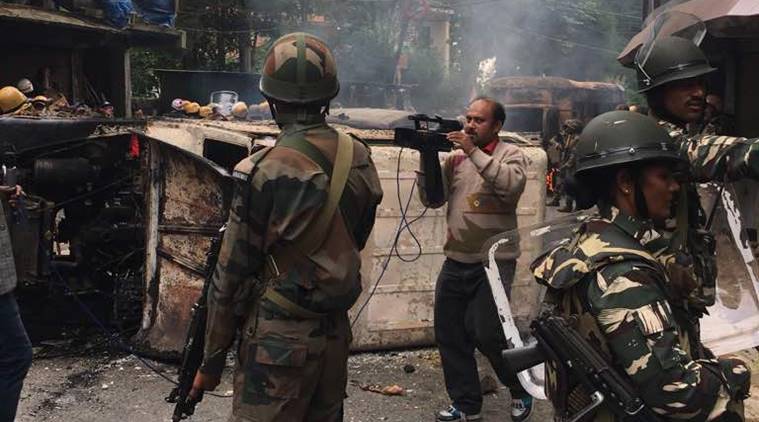 PTI and KalimNews, Darjeeling, June 17 :

An officer of the India Reserve Battalion was critically injured as fresh clashes broke out between Gorkha Janmukti Morcha supporters and security personnel here on Saturday, the third day of the indefinite shutdown called by the GJM over its demand for a separate state.
When GJM supporters violated prohibitory orders and took out a procession on Saturday, the police stopped them. The GJM supporters then threw stones and bottles at the police, which retaliated with tear-gas shells and a baton charge. "The IRB police Officer is not dead but critically injured and is in serious condition" , said Mamata Banerjee Chief Minister during a press Conference in Navanna .
On Friday night, the police had picked up a GJM legislator's son and raided the residence of another leader following an attempt by some party supporters to torch an office of the Public Works Department in Bijanbari area here.
The GJM said police had picked up Vikram Rai, son of Amar Rai, a member of the West Bengal legislative assembly. Vikram is in charge of the GJM's media cell. The police also raided Binay Tamang's house.Vikram is released by police.
Shops, hotels and business establishments, barring pharmacies, remained closed.
The police are on high alert after Friday's violence and arson. Security forces are conducting route marches in various parts of the hills.
The indefinite bandh was called after the police raided the premises linked to GJM chief Bimal Gurung on Thursday.
The GJM had earlier called a shutdown of the offices of state government and the Gorkhaland Territorial Administration, which it controls.
The current agitation was sparked by the state government's announcement making Bengali a compulsory subject in schools. Chief Minister Mamata Banerjee later said the decision would not be implemented in the Darjeeling hills.
But the GJM persisted with its agitation, and then called a shutdown, which has emptied the hills of tourists.