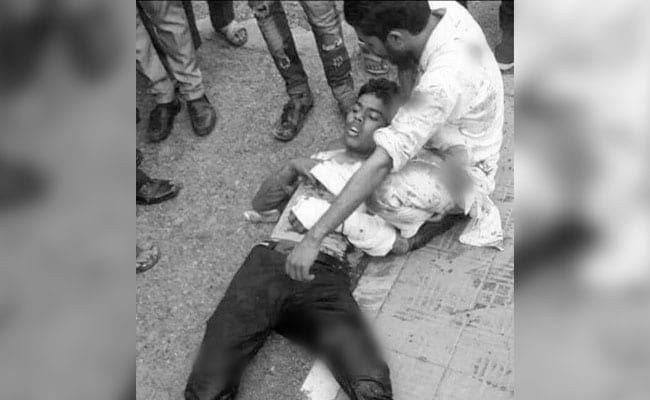 TT, Chandigarh, June 29: A brother of slain teenager Junaid Khan today identified four persons arrested yesterday as part of the mob that had assaulted them on the Delhi-Mathura Passenger.
The four - a 50-year-old Delhi government employee and three men in their twenties - were produced before a local court in Faridabad that sent them to police custody for two days.
"These four people were among the group who assaulted us," said Hasib, who was travelling on the same train when the attack took place last Thursday.
The four have been booked for murder, attempt to murder, wrongful confinement and deliberate and malicious acts intended to outrage religious feelings.
Another man arrested earlier had said he was drunk and his friends had provoked him to attack the boys because "they are cow-eaters".
Haryana police sources said the four arrested yesterday had admitted to assaulting Junaid and the others but denied stabbing either the murdered teen or his brothers Shaqir and Hasib, who were both knifed.
The sources said the four claimed that the person who stabbed Junaid and his brothers had not boarded the train with them.
"They claim the man was not known to them. They had not come across him travelling by the same train though they are daily passengers," said a police officer.
The government employee had boarded the train from Okhla, on Delhi's southern fringes. The three youths had boarded from Faridabad's New Town station, several stations after Okhla.
A police source said the man told interrogators the fight had broken out over sharing of seats, though he later admitted that Junaid had offered him a seat and he had occupied it for most of the journey.
"He claims that the boys were playing a board game and were occupying extra space. When he objected they reluctantly shifted but by then a scuffle had already broken out between them," the officer said.<>
"The trouble definitely started over seat sharing but soon took a communal colour. This man and the other passengers continued to abuse and later assault Junaid and his companions," said an officer in Haryana Police.
The director general of police Haryana B S Sandhu had denied that the lynching had any links with beef, though Hasib and Shaqir have repeatedly insisted that they were abused for being "cow eaters" and "anti-nationals".
Police sources said raids on the village around Asaoti, where Junaid was thrown off the train, had led them to the four.
"Raids are on to identify the rest of the mob. It is not an easy task. We expect those who were there in the fateful compartment would talk," said a source.