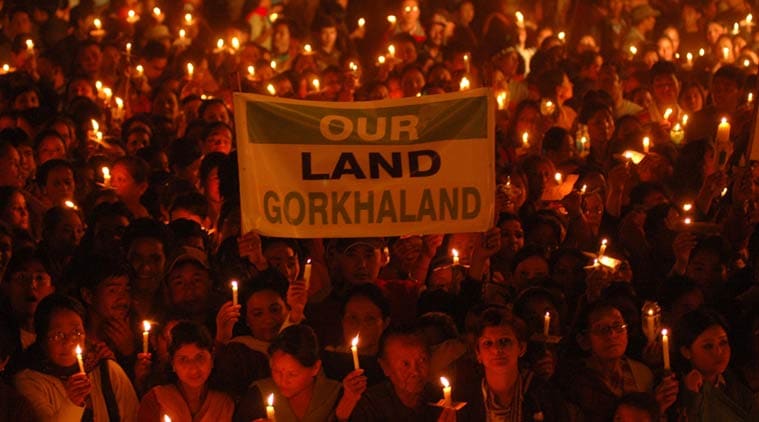 Esha Roy | IE | Kolkata | June 30, 2017: The GJM and 12 other political outfits in Darjeeling Hills on Thursday decided to carry on with the indefinite shutdown until their demand for a separate state of Gorkhaland was met. At an all-party meeting, which was also attended by district leaders of BJP and Congress at Kalimpong's Tres Hotel, it was also decided that the 'Gorkhaland Movement Coordination Committee' will be set up carry forth the movement, said GJM spokesperson Binay Tamang.
"While the convener of this committee will be GJM vice-president Kalyan Dewan, the co-convener will be D K Pradhan — the chairman of the Darjeeling municipality and executive member of GJM's central committee," he added. The others parties will nominate two members each to the committee.
"All the parties were in favour of the movement being spearheaded by the GJM and our leader Bimal Gurung… they have faith in us. The issue of collective leadership was not brought up," said Tamang.
However, GNLF spokesperson Neeraj Zimba said: "As of now, we are hopeful of a collective leadership… each party was given half an hour to put forth their views on how the agitation should be carried forward… the do's and dont's of the agitation. The committee and convenors appointed right now are ad hoc. The committee will be formalised at a later date."
While other Gorkha parties had demanded that the movement be carried forward by a "collective leadership" of all parties, the GJM has not been in favour of this. GJM detractors in the Hills on Thursday said the other parties refrained from pushing the point since GJM had the numbers, infrastructure, finances and an overwhelming public support right now.
Harka Bahadur Chhetri, former GJM leader and founder president of Jan Andolan Party — which had recently cut off ties with the Trinamool Congress over the demand for Gorkhaland — was cautious about Thursday's developments.
"It is too early to say anything, we are just beginning. The success of the committee will depend on how we come together and if we are able to work harmoniously. Of course, if one party decides to impose its decisions and push it down our gullet, then this will not last. At that point, we will just have to walk away," he said.
He added that JAP and other parties have demanded that equal representation be given to everyone in the committee, and that apolitical organisations and representatives from the civil society be included in it.
"The Centre may not be in favour of Gorkhaland right now, but that doesn't mean it will never be. The leaders, who have been sent to have a dialogue with the central government, have been unable to convince them. It's not enough to say that we want a separate state, we must be able to articulate why we want it. Whether the state government supports this or not is irrelevant now. The Andhra Pradesh Assembly had unanimously passed a resolution against Telangana but it was formed nevertheless. We have told the other leaders that quarrelling with the state government is a wasted effort, we have to take our movement to Delhi and that's all," said Chhetri.
The first meeting of the committee is scheduled to be held on July 6.
About deputing leaders to the committee, sources in the Congress and BJP said the matter will be discussed with their high commands. (Source & Courtesy: http://indianexpress.com/article/india/darjeeling-unrest-gorkhaland-west-bengal-mamata-banerjee-gjm-4727618/)