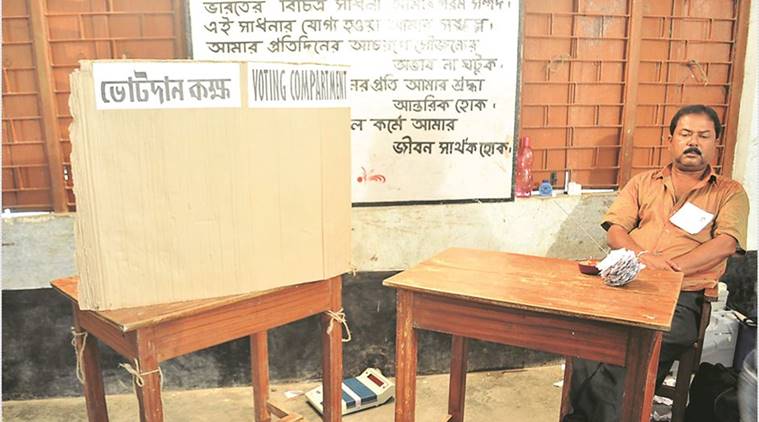 KOUSIK SEN and AVIJIT SINHA, TT, Raiganj/Siliguri, May 14:

The Congress and the Left Front "withdrew" candidates and polling agents as alleged Trinamul workers indulged in violence to capture booths during the civic elections in Raiganj today.
"In consultation with the Left leaders, we have decided to withdraw our candidates and agents. Trinamul has indulged in violence in a blatant manner and police and administration stood as mute spectators. We demand re-polling in all seats but the polling can be free and fair only if the administration can ensure necessary steps," Congress leader Dipa Das Munshi said.
Some voters of a booth at Coronation High School in ward 18 alleged that outsiders had asked Left and Congress voters to leave around 8.30am. A clash ensued and a youth among the outsiders was caught as he was carrying a firearm in his waist. He was handed over to police.
The police resorted to a lathi-charge to disperse the crowd. The outsiders, meanwhile, entered the booth and resorted to rigging. The police were informed but they allegedly did not act.
A group of youths came on bikes at a booth in Collegepara (ward 24) and lobbed bombs. Voters left the spot in fear but some re-assembled and stood in queue. The youths again returned and lobbed bombs for the second time.
After the second attack, agents of the Congress and the CPM and voters could not be found near the booth.
Around 10.30am, another group reached ward 7 and fired in open. Locals put up resistance and chased them away. The EVM at the booth was ransacked.
Bombs were hurled at booths in wards 26 and 27 also.
District Trinamul leaders, however, scoffed at the Congress and the Left. "Leaders of the CPM and the Congress can foresee their defeat. That is why they have joined together and are raising baseless charges at us," Amal Acharya, the North Dinajpur district Trinamul president, said.
There were "some minor incidents" which other parties are blowing out of proportions, he said.
Officials of the district administration claimed that they had played an "appropriate role." "The administration has delivered its responsibility in a proper manner. We have heard about the demands of re-polling and will inform the state election commission. As there is tension in some areas of the town, police have been asked to maintain vigilance in these locations," Ayesha Rani A, the district magistrate of North Dinajpur, said.