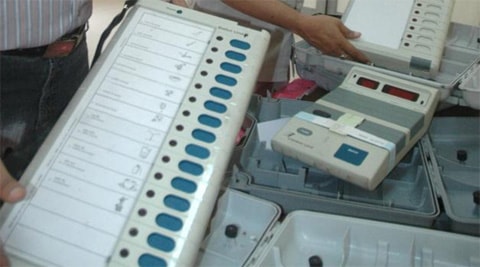 Pheroze L. Vincent, TT, New Delhi, May 26: Only the NCP and the CPM have been allowed to participate in the Election Commission's challenge to parties to prove that electronic voting machines (EVMs) can be manipulated.
RJD spokesperson Manoj Jha received an email from commission undersecretary Madhusudan Gupta saying: "This is to inform that as per our EVM Challenge Framework you were required to submit your willingness to participate by 5pm today i.e. 26th May, 2017. However, your email has been received at 5.39pm today and hence we are not in a position to entertain your participation."
Jha told The Telegraph: "I repeat what I asked the EC during the all-party meeting. Are you the custodian of EVMs or the custodian of free-and-fair polls?"
Both the CPM and the RJD had sent names despite reservations about "rules and regulations" that do not allow tampering with the internal circuits of EVMs. "No system can be tampered with unless you have access to the motherboard," Jha said.
The NCP's team, that will not have any technical expert, will be led by MP Vandana Chavan. The CPM's team for the June 3 challenge includes comrades from Calcutta, Bangalore and Mumbai, who are also embedded system specialists, party general secretary Sitaram Yechury told this paper.
The EC has offered two challenges to the parties that contested the recent elections in five states.
Parties that have claimed that EVMs were tampered to favour particular candidates would have to alter the results in the control units in exactly the same scenario in which the machines remain after the polls. They will have to prove their claim in strong rooms or during counting by either pressing a combination of keys or using an external device - wireless, Bluetooth, mobile phone - on the control unit (CU) or ballot unit (BU) or both.
In the second challenge, the participants will have to prove that EVMs were tampered on or before the polling day.
Congress communication in-charge Randeep Surjewala wrote to the EC today, saying: "The EVM is composed of more components apart from the CU and BU. If challengers don't have access to all the components - such as the motherboard - that constitute an EVM, how will they demonstrate their concerns?"
AAP national secretary Pankaj Gupta said in his letter: "We were told... that only a visual inspection of the inner machinery of the EVM would be permitted, and no use of tools would be allowed. Do you think a machine can be hacked by looking at it?"
Members of the CPI, BJP and the Rashtriya Lok Dal will be present as observers during the challenge. Trinamul spokesperson Derek O'Brien said the party had sought more time from the EC, which was not accepted.