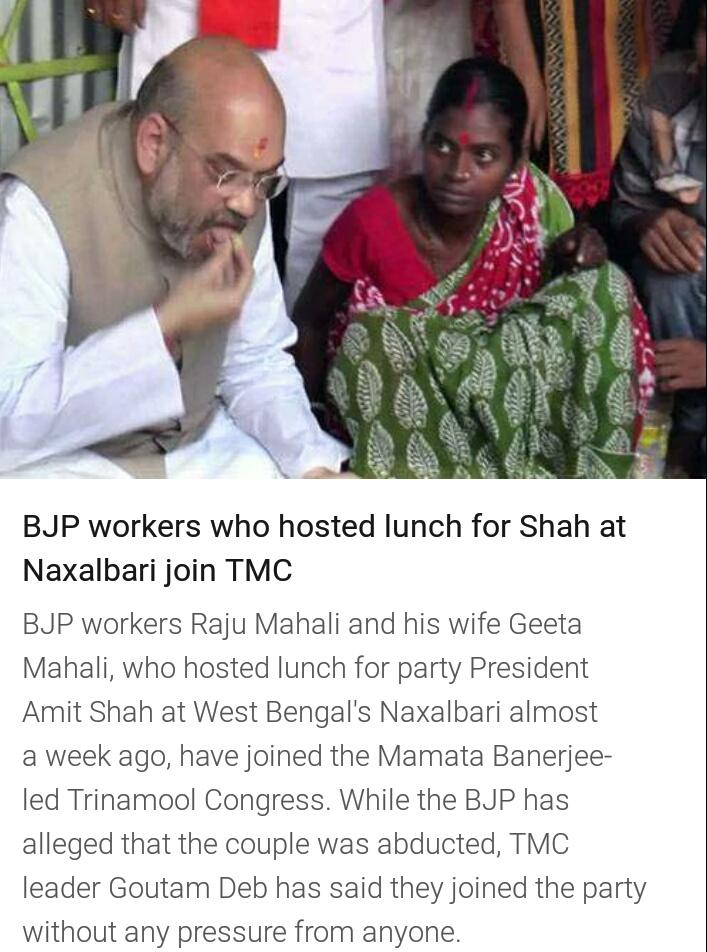 BIRESWAR BANERJEE, TT, Siliguri, May 7:

The BJP has taken the strategy of "using" Trinamul's abrupt move of inducting the tribal couple into the party - within a few days after party president Amit Shah had lunch at their hutment - to consolidate its base in Naxalbari belt.
"We have not resorted to any retaliatory move of trying and getting the couple or the four other families, whom our party president had met, into our party. Instead, we have initiated a month-long campaign across Naxalbari block to apprise people of Trinamul's cheap politics and how their decision has made the couple's life miserable," Dilip Barui, the Naxalbari block president of the BJP, said today.
Last week, the BJP had to suffer a face of loss after Trinamul inducted Raju and Gita Mahali, who are residents of South Kotiajote village and had hosted lunch for Amit Shah. State tourism minister Gautam Deb, who handed over flags to the couple, claimed that they had willingly joined Trinamul.
Since then, policemen have been posted outside the family's hut. The couple and their two children have not spent a night at their home till yesterday.
This is the issue that the BJP leaders are highlighting in their campaign, held in the form of meetings in every locality of Naxalbari block.
"They are common voters and we have never thought of them as party workers. There is no question of making any retaliatory move. Instead, we have planned to help them with a cooking gas connection and a house under the central schemes as per the instructions of our party president. But for some reason or the other, they are spending days with policemen standing on guard and staying at some other place at night. It is because of Trinamul's politics that their life has become miserable. We are highlighting it in our campaign," another BJP leader said.
In course of the campaign, he claimed, they are getting good response as common people have expressed surprise and anguish after they heard about the case.
Even today, two meetings were organised at Rathkhola More and Ghatani More, both in Naxalbari.