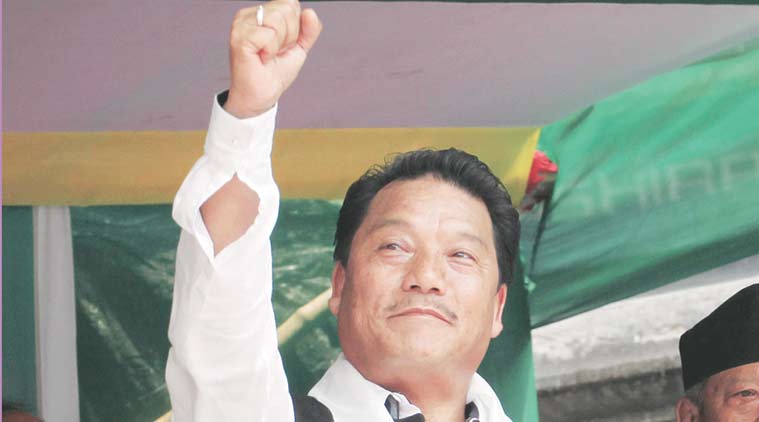 EOI, DARJEELING, 26 May 2017 : Gorkha Janmukti Morcha president Bimal Gurung today warned of the possibility of situation turning volatile, if the state government forcibly imposed Bengali language in the hills schools.
The GJM leader termed the state government's decision to impose Bengali language in the hills an "atikraman" (domination).
The Bengal government is set to pave the passage in the Assembly to make Bengali language compulsory in schools in the state. Although schools in the hills have been exempted from the state imposition, but the GJM party is not taking any chances.
GJM's youth front- Gorkha Janmukti Yuwa Morcha- protesting the state government directive organized rallies in the hills a few days back. Today Gurung said, "We are not against studying Bengali language, but we will not accept any forcible imposition. It must be remembered that we culturally and linguistically different and have our own traditions. If Bengali is imposed than it will harm our culture, tradition and language". Gurung said he (as GJM president and Gorkhaland Territorial Administration, chief executive) had written to chief minister Mamata Banerjee requesting her to give a rethink to her government's decision.
The GJM president said situation could flare up in the hills. "We want the state government to consider and rethink their decision. If Bengal still goes ahead than there is every possibility of a things turning volatile in the hills which no one will be able to stop," Gurung warned.
Roshan Giri, the GJM general secretary admitted that making Bengali a compulsory language in schools of the state was not officially an act but said the government should take into consideration the pros and cons. "There will be chain reaction if Bengali is made compulsory in the hills schools. Schools will have to appoint Bengali teachers which effectively means to parents will be over charged. Also, finding teachers teaching Bengali outside the schools is not possible which will affect students," he reasoned.
Giri also said that Nepali was recognized as an official language in Bengal under the West Bengal Official Language Act in 1961 and was included in the eight schedule of the Constitution in 1992. "We feel that Bengal should also make way to include Nepali language in schools as it is officially recognized. We are not against learning new languages," he said.