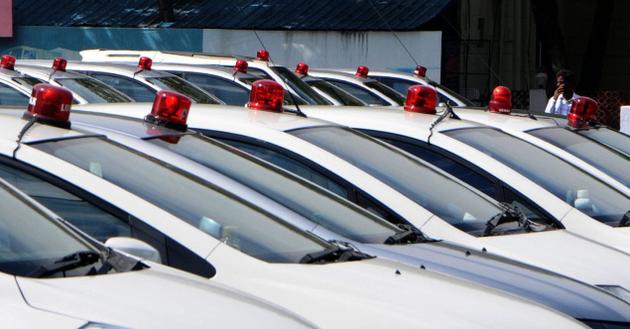 TT, April 19: Official reaction: We will wait for the order. Unofficial reaction 1: Where will we park our cars if they don't have a beacon? Unofficial reaction 2: Thank god, they are gone; they were a nuisance.
The first came from a Bengal bureaucrat, the second from a bureaucrat worried about his privileges and the third from a police officer forced to salute VIPs in beacon-fitted cars and look the other way when they flout traffic rules.
These contrasting moods of anxiety and relief reflect what news of the Union cabinet's decision to remove beacon lights from all vehicles, including that of the Prime Minister, from May 1 means for different sets of government servants.
Civil services officers across departments would not comment officially on the landmark decision, restricting themselves to saying they would "wait for the order to reach us".
Chief minister Mamata Banerjee possibly would not bother. She does not use a beacon on her car anyway. But her ministry colleagues do, and the babus seem to love flaunting them.
In private conversations - in the middle of preparations to join the chief minister on her north Bengal trip starting April 23 - many officials wondered if this move was for real. Some said they would not mind being "commoners" if the ministers of their departments also had their beacons snatched.
But the automatic availability of a parking space wherever they go - car beacons scream "VIP" like nothing else does in this country - is a privilege difficult to give up, most officials admitted. Beacons also help in beating every traffic law in the book.
"A beacon really helps when it comes to parking. Hopefully, VIP cars would bear the tag 'Government of West Bengal'," said an IAS officer who has a blue light without a flasher atop his SUV.
The Union cabinet today decided to scrap the practice of having beacons atop all vehicles barring those used in emergency services like fire brigade, police patrol and ambulances. "From May 1, no red beacon will be allowed atop any official vehicle. There will be no exceptions," finance minister Arun Jaitley told reporters.
Vehicles used in emergency services would need to use a blue beacon with a flasher.
In Calcutta, none of the ministers in the Mamata government was willing to speak officially on the Union cabinet's decision. Transport minister Suvendu Adhikari said the Bengal government would decide what to do only after receiving a formal order from the Union ministry of road transport and highways.
He said chief minister Mamata was ahead of Prime Minister Narendra Modi in shunning beacons. "Our chief minister, Mamata Banerjee, does not use a beacon. Why this discussion (about banning beacons) now?"
Senior officers across traffic guards admitted that in most malls parking space earmarked for emergency vehicles like ambulances are often allotted to VIP cars with beacons. On the roads, these cars brook no stopping.
"It is a sort of thumb rule. A vehicle with a beacon, with or without a flasher, means we have to arrange for seamless parking and also create a green channel in the middle of peak-hour traffic," said a senior officer of the Shyambazar Traffic Guard.