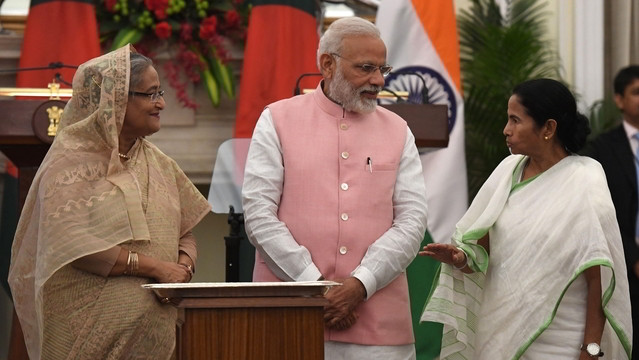 Charu Sudan Kasturi, TT, New Delhi, April 9: Bengal chief minister Mamata Banerjee's proposal to share with Dhaka waters of rivers other than the Teesta has complicated India's efforts to strengthen the hands of Bangladesh Prime Minister Sheikh Hasina during her ongoing visit, officials from both countries have cautioned.
But the chief minister's proposal, though unacceptable to Dhaka, suggests an opening gambit in negotiations that both national governments hope will yield a breakthrough before Bangladesh's general elections in end-2018, officials and experts said.
Mamata had last evening told reporters she had proposed to Prime Minister Narendra Modi and Hasina sharing water from "four or five rivers" in north Bengal, instead of the Teesta.
The Teesta, she said after visiting Hasina at Rashtrapati Bhavan, carried too little water for Bengal to share with Bangladesh. Instead, she said, a joint study of other north Bengal rivers like the Torsa would help determine whether water from them could be shared.
Mamata's comments had peeled off some of the sheen Hasina's visit gained after Modi earlier in the day publicly committed to finding an early resolution to the Teesta dispute, senior Indian and Bangladesh diplomats said. Modi had backed his commitment with an expression of confidence that "only" the current governments in New Delhi and Dhaka could seal the agreement.
But her proposal, her decision to attend a ceremony to flag off two new trains and a bus with Modi and Hasina, and her call on the Bangladesh Prime Minister in the evening yesterday have sparked hope in New Delhi and Dhaka that she may eventually accept the Teesta pact.
"Water from these other rivers can be complementary to the Teesta — but one is not a substitute for the other," Debapriya Bhattacharya, public policy analyst and former Bangladesh diplomat who is now a distinguished fellow at the Dhaka-based think-tank Centre for Policy Dialogue, told The Telegraph. "But that she felt the need to make some proposal shows she values her relationship with Bangladesh. Let's build on that."
Hasina, Bangladesh officials said, had indicated to President Pranab Mukherjee, which whom she is staying, that Mamata's proposal would not be acceptable. She, they said, would also articulate that view to Modi either at a banquet thrown in her honour this evening by Mukherjee or on Monday at a business event the two Prime Ministers are expected to attend.
On Sunday, the Bangladesh Prime Minister visited the Ajmer Sharif dargah, and made a brief trip to Jaipur before returning to New Delhi for the President's banquet. Back in Dhaka though, the her principal political rival, Khaleda Zia, had already fired the first political shots in response to Mamata's proposal for an alternative to sharing the waters of the Teesta. She accused Hasina of "selling" Bangladesh to India to stay in power.
"Hasina dreams of remaining in power for life," Zia said at a programme of her Bangladesh Nationalist Party (BNP) last night. "She has done many things for this. She kept nothing for the country, sold everything."
For India, which has traditionally had better relations with Hasina's Awami League than with Zia's BNP, a key aim of the visit of the Bangladesh Prime Minister was to showcase New Delhi as appreciative of her contributions to the relationship - and to her country.
Modi repeatedly referred to Hasina's "courage" in the face of the personal tragedies she faced when much of her family was assassinated, and called her resolve against terrorism "inspirational." A New Delhi road will now bear the name of Bangladesh's founding father -Hasina's father Sheikh Mujibur Rahman.
The Indian Prime Minister publicly credited Hasina with leading Bangladesh's economic and developmental successes, even pointing out that the country now had a higher average life expectancy than India - though it lagged at the time of its independence in 1971.
And the Modi government pitched its unprecedented $5bn soft loan to Bangladesh yesterday as a win-win tool: to help Bangladesh develop, and in the process also reduce economic migration from that country to India.
"We want to create employment in Bangladesh, to help Bangladesh develop," Indian high commissioner in Dhaka Harsh Vardhan Shringla said yesterday to reporters, when asked if India had shared with Hasina concerns over illegal immigrants from that country.
"That will partly take care of some of the issues you mentioned."
Still, for a predominantly agrarian country like Bangladesh, water is critical - and any proposal that can be spun to suggest Hasina allowed the country to be shortchanged will hurt her politically, officials and experts said.
India and Bangladesh share 54 rivers, and Dhaka has already proposed the joint basin management of all these rivers - not just of the four or five Mamata referred to. Under international law, it has rights to a share of the water from all these rivers in any case, Bangladesh officials argue.
But the Teesta deal is now about more than just the river's waters. It was negotiated by the two countries over years, and dumping it would represent recognition of failure - which would be politically untenable for Hasina.
And Mamata's role will not insulate India from criticism for failing to deliver on the agreement, or shield Hasina from accusations that she didn't gain enough for her country from the relationship with New Delhi.
"It (the Teesta water sharing pact) is an absolute must for her," Bhattacharya said. "And ultimately, it isn't Bengal but New Delhi that has to deliver on its promise."