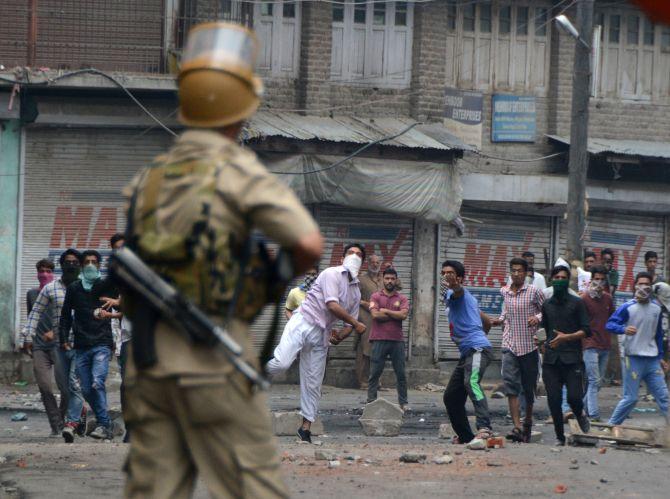 TT, New Delhi, April 10: The Supreme Court today wondered how children as young as seven were part of rampaging mobs in militancy-ravaged Kashmir after the Centre claimed the protests were being manipulated by people "with ulterior motives".
The question came up during a hearing on a PIL seeking a ban on the use of pellet guns by security forces during the protests.
The Centre told the court that it was exploring alternatives, such as the skunk spray - made from foul-smelling liquids oozed by mammals called skunks - used by Israeli forces to disperse Palestinian protesters. Pellets have been blamed for leaving hundreds blind and causing grievous injuries to thousands.
Attorney-general Mukul Rohatgi told a bench headed by Chief Justice of India J. S Khehar that a new standard operating procedure (SoP) to handle mobs had been evolved in October 2016 and would be tried soon by forces, though he did not specify the place or date.
"Pellet is being used as a last resort. We have come out with a new standard operating procedure (SoP). The object is not to kill anybody. In the new SoP, we want to experiment with the use of skunk water. We are also trying to explore use of chilli shells, rubber bullets," Rohatgi told the bench, which also comprised Justices D.Y Chandrachud and Sanjay Kishan Kaul.
Jammu and Kashmir High Court Bar Association, which has filed the PIL, has sought the pellet ban citing the injuries and the hundreds blinded. But Rohatgi contended that pellets were used as a "last resort" against mobs. "We are constantly evolving....The idea is not to kill people. It is not that we are happy killing people. Nobody is saying they (security) are a rogue force."
The attorney-general then sought to highlight the difficulties in tackling such mobs. "Every protest is manipulated. It is not a dharna. This is not Jantar Mantar (Delhi's dharna site). It is not a peaceful protest. They (mobs) are lured by some persons with ulterior motives. Unfortunately, the young ones (kids) are being used as a shield. . It's a very, very tricky situation."
However, advocate Abdul Quayum, appearing for the bar association, said the forces were indiscriminately using pellet guns and even bystanders were hit. He claimed a five-year-old playing with his father in their home was blinded after a pellet struck him.
Quayum argued that the entire issue was political. "No solution is possible within the system. It is a political issue. Is the central government in a war with the people of the state?" Quayum asked.
At this, CJI Khehar reminded Quayum that the bar had an important role to play in the crisis and should not take sides. "You are there to protect the law and citizens, provided you don't take sides. We have seen the (Centre's) report. There are children who are 7,11, 14 years. Where are they coming from? What are these children doing in the mob? Why should the tender children be part of the agitation?" the CJI asked Quayum.
Justice Chandrachud, another of the judges, weighed in: "We have seen that the mobs consists of people who are in the age group of 13-20 and 20-28 years... we don't see people in their 40s, 50s."
CJI Khekar said that "if the pellet guns were not used, 20,000 people would have been killed". "This has to stop. You can't allow them (mobs) to damage public property."
Quayum contended that "you (the government) can't kill people, maim people or make them blind". The CJI countered by saying: "But it has to be prevented from both sides."
The bench later adjourned the matter by two weeks, asking the bar association to file its response to the Centre's point that it was the mobs that were indulging in unbridled violence.