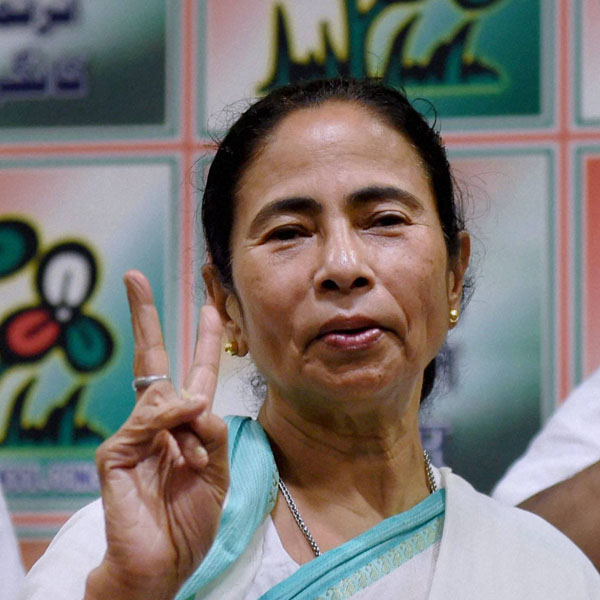 Sudeshna Banerjee and Sambit Saha, TT, Calcutta, April 11: For secrecy and momentousness, it will not bear comparison to then US secretary of state Henry Kissinger's July 1971 flight to Beijing, on a Pakistani jet, to rewrite capitalist America's engagement with communist China.
Still, nearly half a century on, the communists' biggest tormentor in India, Mamata Banerjee, is poised to redefine Bengal's ties with Beijing in about two months from now.
"Our party has received an invitation from the Chinese Communist Party to visit that country. They have invited me," the Bengal chief minister told reporters here today, a PTI report said.
"They have requested me many times. Perhaps we may go there in June for four-five days. Everything has not yet been finalised.... They want to invest (in Bengal). That is why I want to visit."
A source close to Mamata said the invitation had come from both the Chinese government and the Communist Party of China.
"Chinese Vice-President Li Yuanchao met her in November 2015 and invited her to China. Since then, visiting Chinese delegations have been reminding her about it," the source said.
China's ambassador to India, Luo Zhaohui, had led a five-member delegation to Mamata last month. During a 45-minute meeting at Nabanna, he had expressed Chinese interest in investing in the state, principally in the manufacturing and micro, small and medium enterprises sectors.
Mamata had then written on her Facebook page: "He extended invitation to us to visit China to explore Bengal-China business possibilities in manufacturing and other key sectors."
If the China visit happens, it will be Mamata's first trip to the northeastern neighbour that had a warm relationship with her bitterest political enemy, the CPM.
During the Left's 34-year rule in Bengal, the state's communist leaders would regularly visit China on junkets and gloat over Beijing's achievements when they returned.
Mamata's predecessor Buddhadeb Bhattacharjee, whose admiration for Deng Xiaoping is widely known, may not have visited China to attract investment but his industries minister Nirupam Sen did, in November 2005.
"Both the Chinese government and the communist party had hosted the delegation from Bengal as a special case," recalled an industry insider who was part of Sen's team.
Sources close to Mamata said her delegation would receive a similar reception as both the government and the party had invited her.
Till now, Mamata's foreign trips to invite investment have been limited to citadels of capitalism such as Singapore, England and Germany.
"It's not about which path to development a country follows. The chief minister is keen on giving a big push to Bengal's manufacturing industry and wants to invite Chinese companies," a source in Nabanna said.
One of the Mamata government's biggest weaknesses has been its failure to put Bengal on the map of attractive investment destinations.
Over the past few years, the state government has been holding mega investment shows to lure capital. Although the government has been claiming "success" after each show, the impact has not been felt on the ground.
"Mamata now wants to lay special stress on industry and is handling the matter herself," a source said.
Chinese investment in Bengal has not been significant although there are signs of growing trade. Among the imports from China are chemicals and leather while the exports include herbs, tobacco and handicrafts.
Mamata's government has developed closer proximity with China in recent months. "More than five delegations have come to Bengal in the past six months," Chinese consul-general Ma Zhanwu told The Telegraph today.
Since last May, the vice-governors of several Chinese provinces, from Yunnan and Shaanxi to Jiangsu, have come calling to Bengal. Both the Chinese and the Indian sides see these visits as "encouraging signs".
"China is following the one-belt, one-road policy that promotes connectivity and cooperation among countries," Rajeev Singh, director-general of the Indian Chamber of Commerce, said.
He added that China was looking at Bengal as the gateway to eastern and northeastern India. "Calcutta has a direct flight to Kunming, capital of Yunnan, which has the third-largest airport in China."
The closeness has been growing since Vice-President Li met Mamata at Eco Park in November 2015.
"That was the first visit in over 50 years by our highest leadership to Bengal - after Premier Zhou Enlai's visit in 1957," consul-general Ma said.
Li had struck the right chord by opening the conversation quoting a magazine survey that ranked Mamata "first among all Indian politicians in terms of honesty".
Mamata has herself spoken about Li's desire to cooperate in the development of infrastructure in Bengal.
China is keen to increase its foreign investments. According to consul-general Ma, the country has set itself the target of investing $750bn abroad in the next five years.
Last week, a delegation representing 15 companies from the coastal province of Shandong visited Calcutta for business-to-business meetings and the signing of memorandums of understanding.
Shandong has the third-highest provincial GDP in China, amounting to $1 trillion, and accounts for a fourth of China's agricultural exports.
Sources close to Mamata said she was also considering a Poland trip. "She plans to visit this year itself but the dates are not yet settled," a source said.