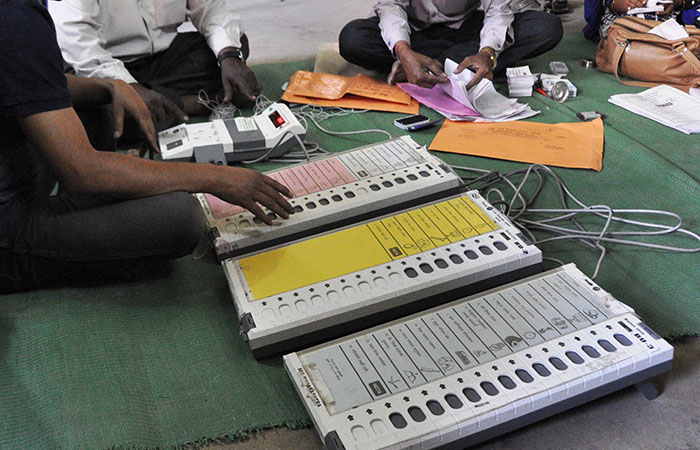 Piyush Srivastava, TT,

Lucknow, April 27:

Uttarakhand High Court today ordered a judicial magistrate to seal all the electronic voting machines used in Dehradun's Vikas Nagar Assembly constituency during the February 15 Assembly elections.
Nav Prabhat, who was a minister in the Congress government that lost the state election, had petitioned the high court alleging that the voting machines had been tampered with.
"Further, some IT experts of the BJP, who were not voters of Uttarakhand, were roaming across the constituency at that time. I also want a probe to find out what exactly these people were doing here," Nav Prabhat said in his petition.
The single-judge bench of Justice S.K. Gupta has ordered all the voting machines sealed and preserved until further orders. The bench has sought a reply from the state's BJP government and the Central Election Commission within six weeks.
Nav Bharat has also requested the high court to order an investigation into a "fake voter" racket. He has alleged that Munna Singh Chauhan, the BJP candidate who defeated him by 6,418 votes from Vikas Nagar, possessed voter identity cards for two Assembly constituencies.
Nav Prabhat told reporters in Dehradun today that the case would expose voting machine "manipulation" across the country.
Many political parties, including the Congress and the Aam Aadmi Party, have alleged that voting machines had been rigged in favour of the BJP during recent Assembly and civic elections in various parts of the country.
A Bahujan Samaj Party petition seeking a probe into alleged rigging has prompted the Supreme Court to issue notices to the central government and the Election Commission, seeking their replies by May 8.
All these parties have demanded that future elections be held through paper ballots or with voter verified paper audit trails attached to the voting machines. The paper audit machine shows a voter a paper slip displaying the symbol of the candidate he has voted for.